By: Garrett Bethmann
There isn't a more perfect example of art imitating life than in the case of Big Apple honky-tonker Zephaniah OHora. 
OHora is a tall glass of water with a whiskey-neat baritone, practically tailor-made to wear a Candian tuxedo, sling a guitar around his neck and sing some country tunes. You'd be forgiven if you thought the New Hampshire-born, New York City-based country singer was born an Okie from Muskogee or way down yonder on the Chattahoochee just from listening to him. But the fact is country ain't about where you're born, it's about what you play and sing and not too many people do that as well as OHora, city lights be damned. 
OHora didn't really dive into the music that he would eventually love and emulate until his early 20's when he moved to New York City. George Jones, Bobby Bare and Merle Haggard were early idols and since country wasn't a hot commodity at the time, he had a helluva time buying dirt cheap records, listening intently to the genre's golden era of songwriters and letting that pedal steel poetry seep deep into the fabric of his being. 
At the age of 30, with a collector's knowledge of country and a fan's love of live music, OHora became the booking agent for Skinny Dennis, a 2010's zeitgeist of honky-tonk music and culture in Williamsburg, Brooklyn, one of the funnest bars at the time. The faded leather barstools, wood-paneling, chicken-wire and vintage beer signs gave off the vibe of your uncle's basement, playing bands your uncle would love. Booking, playing and drinking every night of the week with some of the best musicians NYC had to offer turned OHora from spectator to insider to player in the matter of a few short years. 
"That felt like my best year, it was the beginning of a new era. I was terrified of my 30's like everyone is usually, but then I realized I was having the best period of my life up to that point. It was really just a magical time. I really wish people were making a documentary of that time. I wish it was more documented, at least we have the memories," said OHora. 
OHora has now become exactly who he's idolized, a crisp country crooner with traditional-leaning but savvy songs that fit as tight as a pair of Dungarees. His sophomore album Listening to the Music, produced by the late guitarist, songwriter and producer Neal Casal, is a snappy album full of barroom ballads, guitar wizardry and OHora's definitive voice singing his way through a life's worth of songs. The album culls some of the most intuitive heralded players in the scene — including guests Mickey Raphael from Willie Nelson's band and Norm Hamlet from Merle Haggard's band — giving the album a historical resonance that shines with the brightness of the future. 
Whether he meant to or not, OHora is a country singer who is beginning his professional bloom in the biggest city in the world. We're better off for it because people will be finding Listening to the Music in record stores years from now in the same way OHora would have found Haggard's Branded Man or Nelson's Shotgun Willie. They'll be searching for greatness in the way country music used to be played, hoping to find something they'll love. In OHora they'll find country gold, a singer and player who won't ever let them down as long as he's playing on the speakers.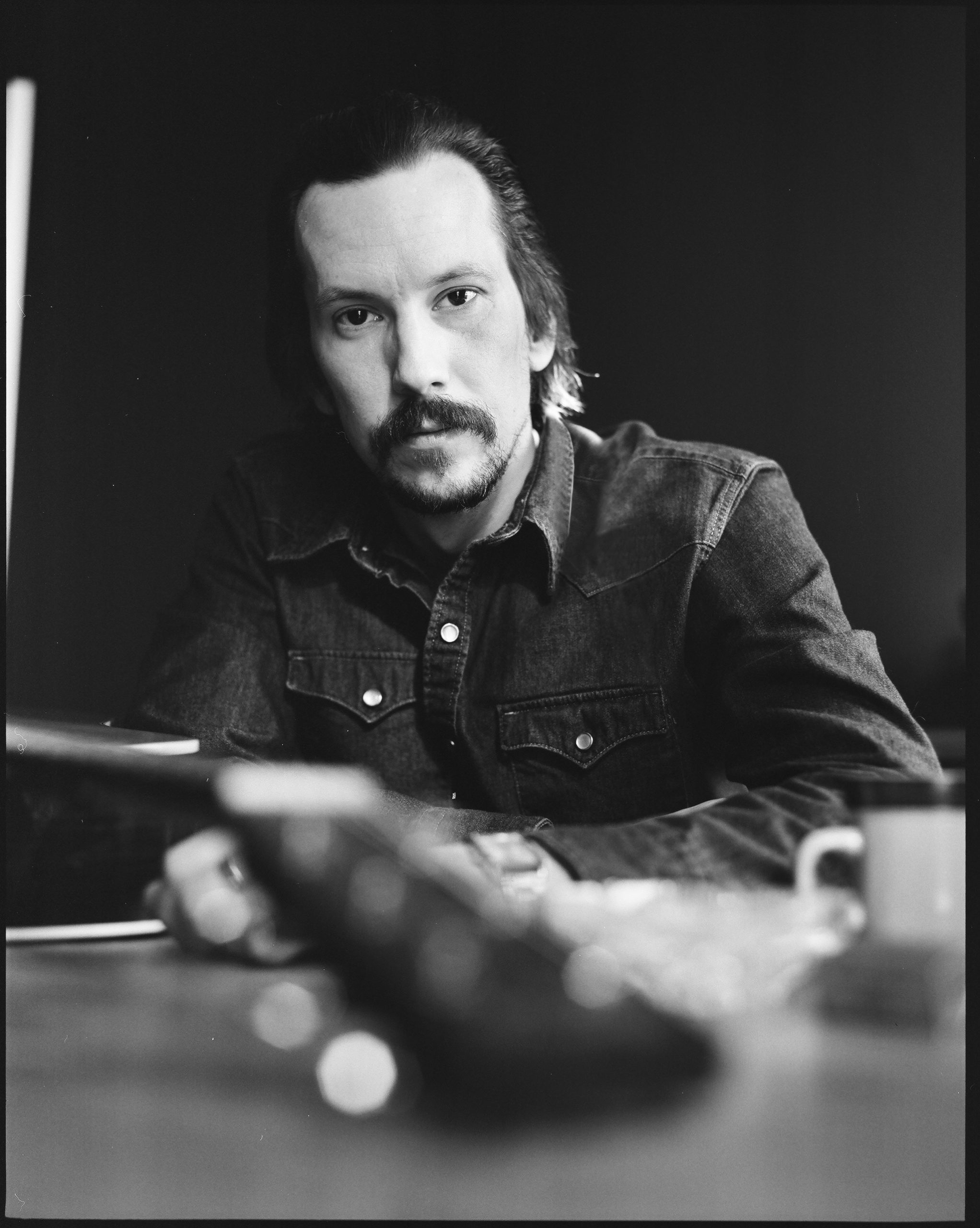 Read below for a conversation with Zephaniah OHora. This interview has been edited for length and clarity.
The way Skinny Dennis has been described to me, it seems like such a zeitgeist at the time. How did that moment in time fit for you? What was it like to be on the ground floor of that joint? 
It was awesome. I turned 30, then less than two weeks later the bar opened up. I knew the owners from another bar and I did all the music from my own sense of personal enjoyment, not as a job. They knew I knew a lot of people in town and had similar musical tastes and they just wanted to kind of have me involved in some of the stuff early on. Then it was them throwing me a couple hundreds bucks a month to book two shows a week and see how it goes. I was so broke that I'd take the extra money and thought it'd be fun. 
It was so successful from the first show. It was in Williamsburg, Brooklyn and at the time, it used to be an artist-hipster area and then it was beginning to be overrun by high-rise condos and a whole different culture. People felt like the neighborhood wasn't what it used to be, so it breathed a little bit of new life into the neighborhood for arts, creativity and culture. Maybe in a week or two it turned into doing a show every night just about, full-time. Lots of people were hearing about it and it was such great New York musicians all the time, people were hearing about it. I didn't have any problem with booking bands that would blow people away. 
As a music booker, what was it like having a big hand in deciding the scene that was coming up around you? 
It felt like Cheers, I was there all the time. I'd drink for free and a lot of people who were working and playing there knew who I was. I could always run into someone and have a chat and it felt like a lot of the musicians and friends that I played with were taken care of. They got paid well because it was guaranteed a good amount and the tips were great from the audience. They made a decent living and had consistent work and people shared what I was trying to do. It was really special. 
Was your country music sensibilities pretty well formed before you started booking there or did you develop it on the fly there? 
It was long before that, which is how I ended up connecting with those owners at another bar. Every Monday night I was DJing all the country records I owned. At the time I worked at a hair salon and a lot of hair stylists are off on Mondays so that was the start of my weekend and I made a party out of it.
Right before I moved to New York I started getting into country and collecting those records, it wasn't something I grew up with. All these record stores had these country sections full of Buck Owens, and no one was buying country, so I amassed a large collection of cheap and great quality records in my collection within a very short time of moving here. 
Who from that time period is kind of a left-of-center type figure, who really struck a chord with you that you don't hear talked about very much? 
It depends on the levels you are looking at. People will ask me if I play country music, then name their person, like Johnny Cash or Hank Williams or Waylon Jennings or Willie Nelson. I've found that's about as far as most people go and I felt people didn't really mention Merle Haggard as much.
I started to discover his catalog and felt that his songwriting and approach was the best full realization of what that style of music is. He did it in a way where if you brought it into the present day, it wouldn't sound as dated. I felt like his music was a good template and not sound too derivative, he'd be a great person to channel. Even though he's one of the biggest and most successful, people still don't talk about him as much. 
All genres have aspects in the music that help define what that genre is, with purists and progressives always latching onto different things. For how you view making country music, what are you protective of as a core tenet of the genre, what are you not protective of?
Everyone is on their own path. If I were to make any sort of definitive rule, there has to be improvisation in solos. There has to be a guitar solo or pedal steel or fiddle, whatever instrument. To me, that's one of the defining parts that sets it apart from americana or folk music. It's more about the lyrics and that's the thing I don't love about a lot of modern americana or folk.
It's not that they are not good songs, but what's bothered me is that there's never just any cool guitar intros. That's my own personal rule, I want most of my songs to have some sort of cool intro or memorable part. That's a major tenet, you can't have songwriting without a memorable part to it. That should be in all music or else I'm bored by it. But that's just me and there are always exceptions to the rule. 
You worked with Neal Casal and said, "his legacy serves as a reminder of how precious a commodity music really is for human kind. I got to experience the growth that comes with working with someone who embodies it." What was the specific growth you experienced and what is the preciousness of music? 
I'm not entirely sure yet, it might take a while till that growth fully reveals itself. I think he encouraged me to have more confidence and embrace trusting myself. If I felt conviction about a certain part of a song or the song in general, just record it and do it. If its controversial or people don't like it or they want to judge you over something in the way it was recorded or whatever, fuck 'em. It's your music and you don't want to make any compromises on other people's behalf. 
In regards to preciousness, I think it covers it in the title track. I think music is something that — as a musician — is the most important thing to me. There's no way we could live without it or survive without it, it brings us so much joy for endless reasons. I think it's such a precious thing, like right now you can listen to basically only recorded music. You can spend all your time immersing yourself in all this amazing history that has been captured into vinyl or a digital file.
There's endless enjoyment and there's so much to learn about history, dealing with things in your life and in a spiritual way. It's the greatest book ever written because it's the collective history of people and their lives recorded into sounds and words. It's pretty wild, recorded music is magical. How did we even find out how to do this?