By: Garrett Bethmann
The amount of jazz, funk and soul sonic gems from the late 1960's and early 1970's are enough to sink the Spanish Armada 100 hundred times over. It's a treasure hunt every time you start looking back into the vast vinyl riches of out of print originals and obscure reissues from bands and artists like The Meters, Grant Green, Lou Donaldson and Melvin Sparks. It's like diving for pearls in the endless algorithmic depths of Spotify or panning for gold in dusty record shops: the thrill of adventure is always there and you might come away with a rare record that glows.
One of the best, maybe THE best, treasure hunter groups out there is The Greyboy Allstars. In fact, mining these sounds for creative inspiration is the whole reason The Greyboy Allstars were created in the first place, acting as the house band for rare groove and crate-digging master DJ Greyboy in San Diego in the early 1990's for his Greyboy label. He'd mix tapes of the vinyl he was digging, the band would practice them, then they'd take the dancefloor by storm on these analog grooves with a new, fresh perspective that crackled with youthful, enthusiastic energy.
Formidable in their knowledge of the music and untouchable in their playing, The Greyboy Allstars were an attempt to put together a Blue Note-like collective of musicians who were cold sweatin' on record, hot to the touch live and able to turn the world onto the funk, jazz, soul and boogaloo music they all loved and were inspired by. Though the Greyboy label didn't last more than a couple years past its initial concept, the group's 1994 debut album West Coast Boogaloo (to be reissued August 7th via Light In The Attic Records) is a certified classic and were part of a new movement of bands and artists like Sharon Jones & The Dap Kings, The Sugarman 3 and The New Mastersounds who focused on live improvisation and taking these old school records and transforming them into new age sounds.  
The Greyboy Allstars are funk-soul OG's whose explorations into funk, soul and jazz have yielded some of the most valuable musical treasures we have of the last 25 years. They are 24 Karat on a 45, shine bright as diamonds on stage and their legacy and influence is priceless for those in the funk-soul world. The group's newest album Como de Allstars is another groovy gem, with heady explorations that ground you to the dancefloor, keeping the boogie in your backpocket. Recorded in three days with minimal forethought, Como de Allstars is a carefree and spontaneous joyride that underscores the impressive creativity these musicians have when the red light is on.  
Since that initial run in the early 1990's, Karl Denson (saxophone), Robert Walter (keyboards/organ), Michael "Elgin Parks" Andrews (guitar), Chris Stillwell (bass) and Aaron Redfield (drums) have delved into their own individual careers while coming back to The Greyboy Allstars when it felt right. They've toured sporadically, only released a handful of records, but have always remained committed to keeping The Greyboy Allstars a living, breathing, creature of improvisational music and a treasure map to the influences who helped craft its sound.
The Greyboy Allstars have become the gold standard they once sought in other artists. They realized what was valuable in the past's treasures, mined it for their own sound, then alchemized into this platinum force of hybridized funk, soul, jazz and boogaloo. Current and future generations of DJs, producers and record aficionados will prize The Greyboy Allstars' music like they currently do for The Meters or Melvin Sparks. There's no doubt "X" marks the spot wherever The Greyboy Allstars are laying it down.
Interview with Robert Walter below.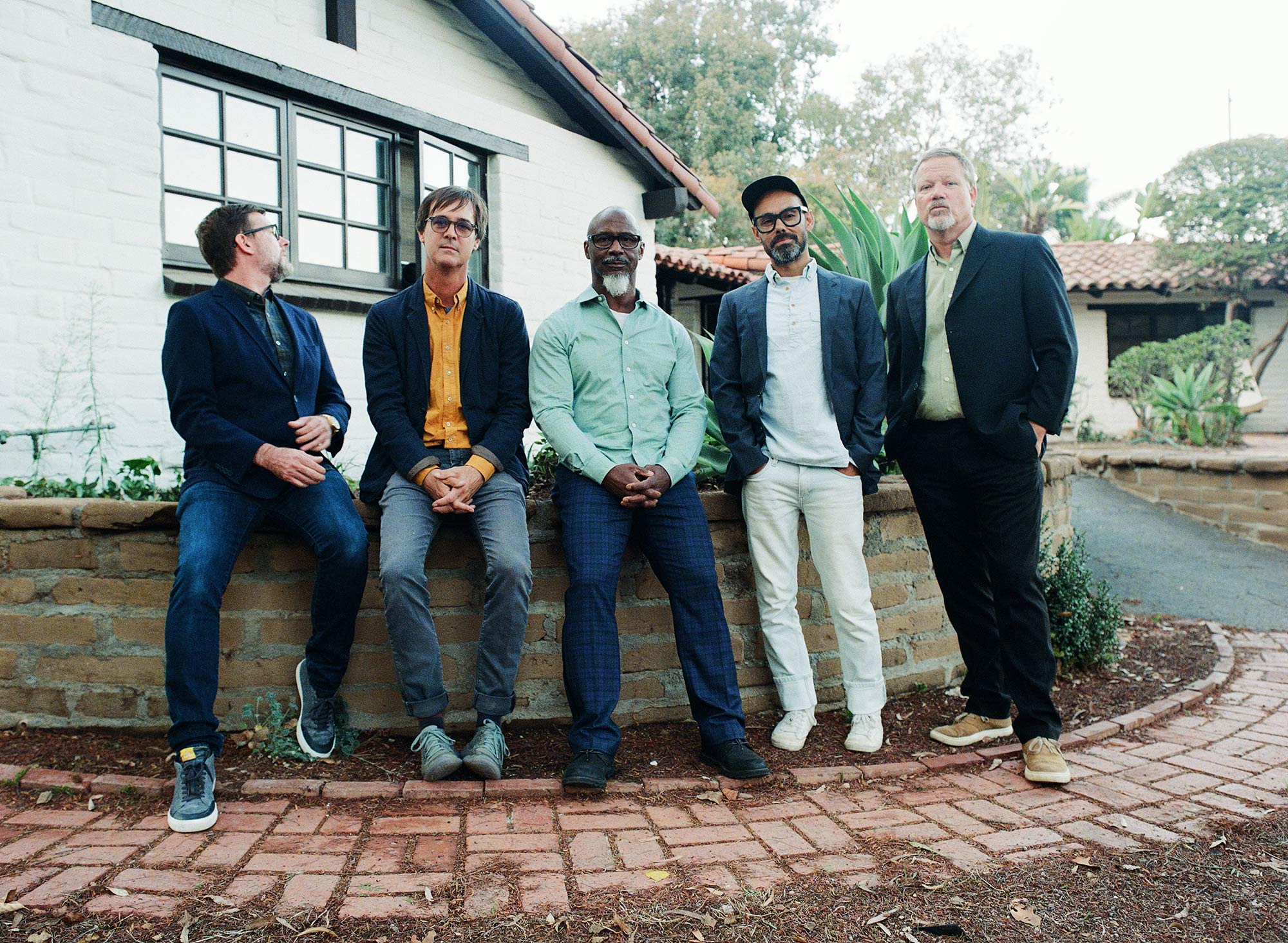 The following is an interview with The Greyboy Allstars' keyboardist Robert Walter. This interview has been edited for length and clarity. 
What's the most intriguing step in the creative process of coming up with a song idea, recording it and finishing it up?
I like playing music that's improvised because it's all about the cross-talk and interaction with musicians. I don't really have a big conceptual plan on what I'm trying to accomplish with the music, I want to document the interactions of the group.  
Where did you have the most fun finding your way through the grooves with the songs on Como De Allstars? 
"Executive Party" always works. It's not an ambitious piece of music, there's no chord changes, it's kind of minimalist in concept and approach. That's a great place for the group dynamic to shine because we don't have to focus on changes. It's just us in our natural habitat of playing the groove, where we are at our best. 
Do you hear anything in your bandmates playing that felt particularly exciting on this round of music? What sounded different now that maybe you wouldn't have heard 20 years ago?
Since we started, we've been enamored with this old music and trying to learn it. We weren't thinking about it but we were playing it in a way that was always referencing something else. Does this exist on another record? What are we trying to be? Is this a Melvin Sparks thing or a Lou Donaldson thing? 
I think as time has gone on we became more like the people we were trying to emulate, we were speaking the language naturally. Instead of trying to imitate things, it naturally flows out of us. We've become who we wanted to be. Everything we play is more authentically ourselves. 
On a bunch of tunes, Elgin Park and Chris Stillwell switch instruments. They did that on a song called "Toys R' Us" on our second album and it's always a highlight on our live shows. I like the way they play because since it's not their first instrument, they play with naivety and attack. 
"Warm Brass" is one of my favorites, partially because it is certainly different from what you usually lay down. It's kind of this scuzzy country song. Where did that idea come from? 
Park did that. He's a great songwriter and has a bunch of solo stuff and a film score composer, as his real name Michael Andrews. He's the most songwriter person out of the group, with writing lyrics and the whole thing. We've always loved these records that had some funk to them but were a little folky and country. I've always loved that kind of stuff and that's our tribute to that. Neil Young can have stuff like that, there's a British band called Pentangle. The thing about the late 60's and 70's is that everybody kind of had good beats on their albums (laughs).
We went into this record really quick and dirty, trying to keep the concepts to a minimum. Somehow, some kind of art snuck into (laughs) and it can get a little weird. The last couple albums have been a little more experimental and dealt with more synths and stretching the boundaries of the genre a little bit. So we wanted to just get one out, but we can't help going a little bit left of center (laughs). 
I know you're big on crate digging and your Instagram is basically you sharing your vinyl collection. Are there any particular rabbit holes you are going down now? 
Post COVID, I haven't been buying records anymore. Usually it's kind of a problem because I always want to acquire more, so it has been a good time to go back and listen to the records I have. There is a reissue from a group called Sam & The Soul Machine. I don't think the music was ever released before. It's a New Orleans funk record that was recorded in the same studio The Meters recorded in, who actually play on some of the songs. The Meters actually had a song called "Soul Machine," so the two bands were contemporaries and the album's got that same style. It's like they found a great lost Meters record you didn't know existed.
In the promo material I received for this record I read that The Greyboy Allstars are essentially about preserving the funk giants that came before you and empowering this type of music to move forward. Can you speak to how you accomplish each of those goals as The Greyboy Allstars? 
As I was saying before, it's when music becomes authentic to your experience. That's the way to keep it alive. It doesn't have to move forward in terms of attaching it to popular trends, it just has to continuously be a living art that you are actually practicing. It is a live phenomenon too, so it is a thing to be seen live and witness the improvisation. The improvisation can be good for your brain, but also, the music should hit you on the dance floor, which is what we've always tried to balance.