By: Garrett Bethmann
Zach Gabbard easily greets me over the phone from his little slice of paradise Howler Hills Farm, near Middletown, Ohio. He'd just got done an evening swim with his son in the waning days of summer. The farm acts as a creative and personal oasis for Gabbard, where friends like Andrew Hibbard and M. Ross Perkins can record music in an all-analog studio, work on art projects and enjoy the calm solitude. 
It's rustic existence that's tucked away from the distractions of the world, one fitting for a musician that, along with his brother and musical companion Andy Gabbard, has kept their heads down and focused on the singular purpose of writing the best songs they can. Prolific but not necessarily popular, the Gabbard brothers' steadfast musical output and creative hustle has led to a subtly amazing career that's earned the respect of some of music's most esteemed entities. 
Zach and Andy Gabbard's style of music is torn and frayed blues rock, stitched together with 60's pop-psychedelia songcraft, worn like a beat-up leather jacket that's scuffed with decades of memories. It's riff-heavy and shaggy, letting it's country-fried freak flag fly, always down to go on a little bit of a magic carpet ride. Instinctual and straightforward, like the brother's air-tight connection, the duo's dynamic and sound has not significantly changed over almost two decades and three bands together.
As Thee Shams, they charged out the garage and barrelled down the road in a spitfire blues junker. They signed with the semi-mythical Fat Possum Records, drinking with salt-of-the-earth bluesman like T-Model Ford, touring with an early Spoon and befriending fellow Ohio peers The Black Keys through the first part of the 2000's. 
Zach and Andy started The Buffalo Killers with drummer Joseph Sebaali in 2006 (eventually adding Sven Kahns on lap steel in 2014), polishing up and ever so slightly updating Thee Shams into a more powerful, long-distance road warrior. Over 11 years the group released 7 (!!!) full-length albums, touring the country dozens of times over, signing-off on a high note in 2017 with Alive and Well in Ohio, arguably the band's best. 
In late 2019 Zach and Andy linked back up with The Black Keys to act as Patrick Carney and Dan Auerbach's expanded touring band — which also included eclectic instrumentalist Delicate Steve —  behind The Black Keys' Let's Rock album. It was a monumentally fulfilling tour that underscored the brother's longevity and success, proving to be a career and personal highlight right before the music industry ground to a halt a couple months later in early 2020.
"I've never really reflected on those things until the last couple years. We've accomplished a lot and it was always onto the next thing, I didn't think about it too much. I'm proud of what we've done big time. A lot of people never get to go anywhere, and I've done it all with my brother. It's pushing close to 20 years of sharing a stage with my brother," laughed Zach.  
They continue their brotherly journey as The Gabbard Brothers. Singles "Sell Your Gun Buy A Guitar" and "Too Much To Feel" were released early this year on Colemine Records' imprint label Karma Chief, planting strains of Buffalo Springfield and James Gang into the ground and growing a hearty, heady crop of dazed folk-rock. Andy released his debut single "Cloud of Smoke" soon after and the brothers are hard at work on material for their debut album, all done in isolation from one another in this time of quarantine. 
"I haven't even seen my brother since January, he lives in Dayton. I've been using this time to get my head together. Me and Andy had recorded a bunch of stuff to tape before this happened, so we've been working long distance on the computer," said Zach. 
It doesn't really matter what they call themselves, Zach and Andy Gabbard are going to be doing their thing. These veterans built an idyllic life based on hard work and relentless creative drive, knowing not to stray too far from musical instincts that have carried them this far in life. There's no overall plan for The Gabbrd Brothers, only the confidence they'll figure it out. You gotta respect that hustle.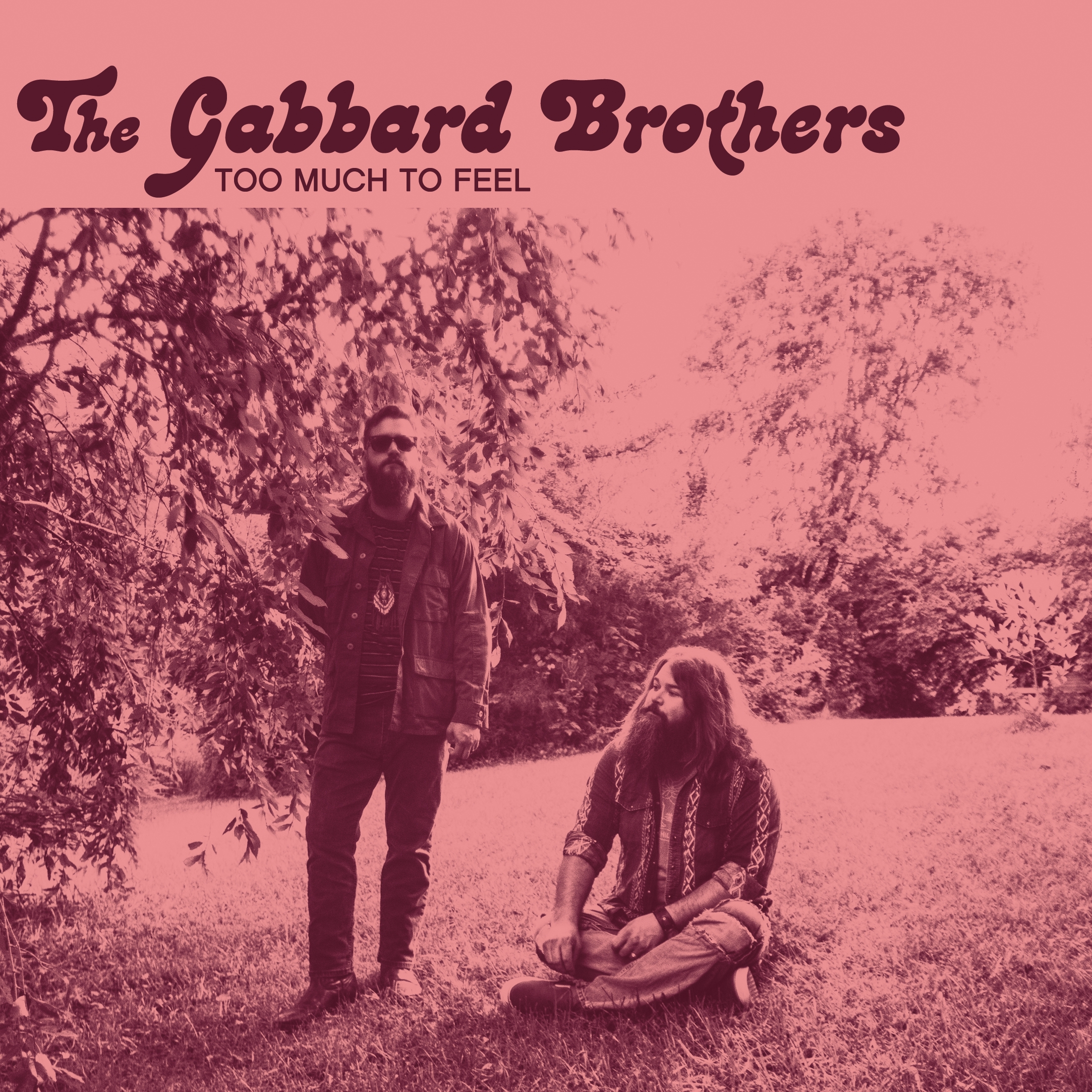 Read below for an interview with Zach Gabbard. This interview has been edited for length and clarity.
How early did you and Andy develop a good foundation with each other as brothers?
Andy is eight years younger than me, so when I first started to go out and play shows he probably wasn't even in high school (laughs). At one point we just decided we would team up. He joined the band I was playing in at the time, Thee Shams, and we just never parted since. Andy was 17 when we first started going on the road. 
Howler Hills Farm: Paint me a picture of what the place is and how it fits within your life? 
It's an old house built in 1857 and we moved here about 10 years ago. I got land and chickens and dogs and gardens. I have a big barn where I have a studio on the top floor, an all analog set-up and everything to record. I've been into if I find someone I like, I invite them to come and record and do their thing. I keep it private, I'm not trying to run a studio. The most recent record I did up here was Andrew Hibbard, where we cut all that live up here in the barn in two nights. Me and my brother record up here and M. Ross Perkins, another newbie on Karma Chief and Colemine, he's a buddy of ours. It's cool to have a space and be able to invite people, which I'm not doing now (laughs).
Your band Thee Shams was signed to Fat Possum Records. Did y'all ever get to go down to Mississippi and hang out with that crew? 
That was the time Andy joined, so when we went down to record that record, he was 17 and I was in my early 20's. Fat Possum brought us down there to Water Valley, Mississippi where they were based and had a studio there at the time. Bruce Watson and Matthew totally took us under their wing and we did that record and a bunch of touring on that record. We toured with Spoon and The Black Keys at the time. Did another record as Thee Shams then that fizzled out. 
We signed to Fat Possum and I thought that was the biggest thing that would ever happen. They put us up in a trailer and we thought it was the lap of luxury. We mingled with all those guys. T-Model Ford would come spend the night in the trailer with us, Paul Wine Jones was down there. The whole band went down, then me and Andy would go down and spend a week at a time. Matthew Johnson, the owner, would take us around on the town. T-Model would wake us up in the morning, and there was one morning I was really hungover. He was standing over me — and everyone was telling him I was sleeping in, drunk from last night — saying, "a boy drinking a man's drink." It was awesome. I've never been back since those days; Oxford, Mississippi and that whole area is so cool. 
With all the traveling you've done on tours, does that make the world smaller or do you get to see how big the world is? 
Everything was driving distance, we never flew anywhere, we always drove in our van. We toured for so long it was like I don't want to get in the van again. It's pretty crazy to think that if I went to Seattle or Miluwakee or anywhere, I'd know the town because I've been there enough. It does kind of make it feel smaller. 
I always knew I could get in the car and I'd get home eventually (laughs). I remember getting on the highway in Denver and I took I-70 it all the way to Dayton, more than once. I've driven straight home from everywhere, I've done some really hard drives (laughs), we've always done that. It's pretty awesome all the places we've been over the years. 
You went on tour with The Black Keys last Fall as their backing band, including guitarist Delicate Steve. Did you pick up anything from either of those groups that you've found helpful in making music?
We've known those guys for a long time and that goes all the way back to Thee Shams, and they've always been great people. The one thing I've learned from them over the years is you just do it and you work hard. They worked really hard to get where they are at and to be up there with them was a really proud moment. To stand behind your friends you've known a long time, with my brother right beside me, it was awesome. For them to bring us along for that experience is another one of those milestones, it's unbelievable (laughs). As you are coming up, you are just trying to do whatever you can to do it, and when it happens, it's surreal (laughs). It couldn't have been any better.  
Do you see any fundamental difference between what The Gabbard Brothers will do and what you've already done in your past bands? 
We don't really talk about that, there's no discussions that happen. There's no real plans besides let's do this. Besides that it's just me and Andy, it's the same that it's always been. You hope to grow as songwriters — which I believe we have over the years — and you just roll forward. All that was ever said about Gabbard Bros was, "let's call ourselves Gabbard Bros," (laughs). There was no plan and we don't do that, never have done that. We know what we can do and we just do it.