By: Garrett Bethmann
There's a sea change welling up in multi-instrumentalist, producer and surfer Reg Froom, a creative swell that's ready to begin the next phase of Froom's musical progression.  
Froom grew up in the tiny seaside town of Stuart, Florida. The toes-to-the-nose baller was exposed to the natural combo of tunage and shreddage early, watching skate clips and surf videos soundtracked by Stevie Wonder and The Beatles as a kid, courtesy of hometown hero Teak Leasor and his local cultural hub 561 Skateboarding.
It was in this tight-knit surf community that you can trace most of Froom's multifaceted roots, from his social group to surfing expertise to the origins of his musical project The Ellameno Beat. Froom is the bandleader and sole creative force of the band, whose initial phase was influenced by the lush, digitized wave of reggae that was immersed in the producer's consciousness at the time, the kind defined more by the electronic wash of audial effects than the organic dub rhythms and political fire of the classics.
That's now changing with the tides. Like picking and choosing the right sets to ride as they barrel into shore, Froom's musical inspiration is looking less towards the polished, easy rollers of reggae and more towards the sonic waves breaking with the wild, untamed energy of psychedelic rock and lo-fi indie chargers, giving the guitarist a new curling tube of sound to shoot down with gnarly exuberance. "Break Through" is the first single in this new direction, pointing towards a sound that pumps with tidal vigor and shines with the neon-psych flair of Tame Impala and Beck productions. 
The change of course is a compelling one for Froom, one he's poised to make the most of with the pieces and personalities with whom he's surrounded himself. Now in Jensen Beach, Florida, he's finishing sound treatment on the recording room he and the band have spent the last month building in his house, sanding, painting and installing drywall with excitement as they close in on their dream of having a home studio. Taking inspiration from the engineers and producers of Abbey Road Studios, the musician has recently been building and recording with some of his own audio equipment and he's thrilled at the sonic capabilities of creating whole songs with mic'd-up live instruments.
Furthermore, Froom is stoked at the company that will help him continue to manifest his vision. The Ellameno Beat have always been about bringing the sounds in Froom's head out of the studio and onto a stage. His creative control relies on the buy-in of friends and bandmates James Rosenblit (drums), Dylon Hixon (bass) and Walker Brantingham (keys) to combine their musical prowess with Froom's musical creativity. It's worked swimmingly so far and the group is enthusiastic about where it's going next. The final step is figuring out how these songs will work with everyone playing together live, which will take a little time. "Break Through" is so fresh that Froom hasn't even yet taught everyone their parts, he's currently the only one who knows how to play the song.
"The way I'm inspired to do music is doing the whole composition, it's a struggle for me to concede that creative power and everyone understands that. I really appreciate the relationship I have with them and the fact that three of my buddies are willing to do that. They work really hard on the road and want to hustle. It's all of our music on the road when we bring it out, I came up with the idea and they own it," said Froom.
Over the next couple months The Ellameno Beat will be introducing fans to its new sound with the release of singles that resonate on a similar level to "Break Through," hopefully cresting with a new album in 2021. Till then, Froom and company will be prepping to ride the next big wave of their career.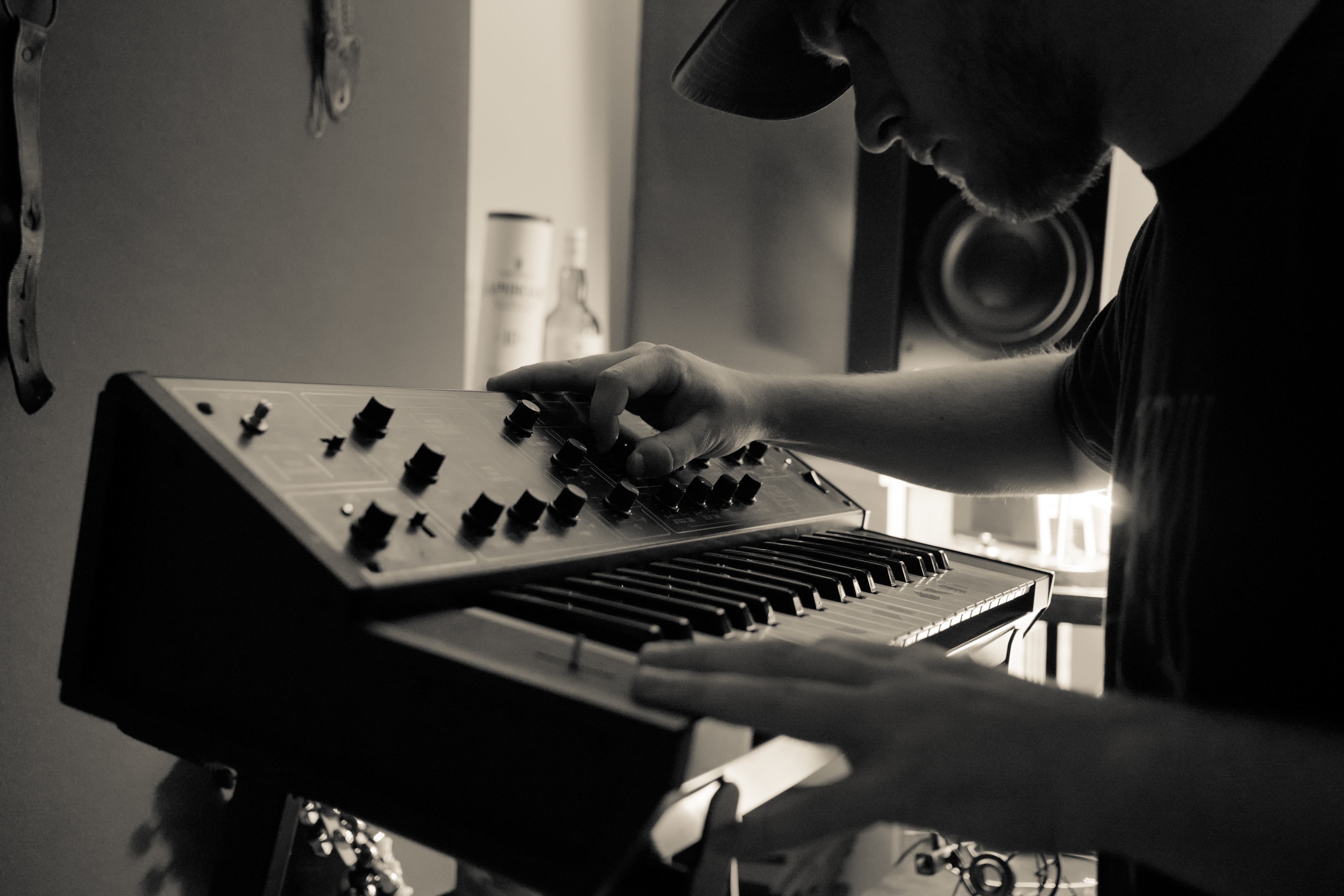 Read below for a conversation with Reg Froom. This interview has been edited for length and clarity.
What's it like having new independence almost in your grasp with your new studio? 
It's a really huge step. "Break Through" is the first step in a new direction. I am trying to go in only recording live instruments and having that human feel in all parts of the production. Having a fully treated live room where you can put a mic on anything and have it sound good is kind of a dream, without having to feel the pressure of being on the clock at a normal studio. 
What's your connection to "Break Through" and what's coming after it? 
It's definitely a preview of what's coming next. There is a large repertoire of music I've been building up over the last couple years and this is the first drop (chuckles). I'm kind of planning on doing the singles thing for a bit because these new songs are very different from what we've released before and I want to give each song the attention it deserves. I've put so much effort in crafting this music and dropping these as singles with their own visuals and marketing seems to be best to introduce people to this new thing, at least as the ball gets rolling. Instead of dumping it all on one LP, I want to give people time to listen. 
Why did you feel the need to turn the boat so much on the direction of your music? 
It's really what we are into right now. As a producer, I dove into this experimental, psychedelic genre and it's just really new and fresh. It's coming from this lo-fi aesthetic, it's not so polished and perfect. There is grit, it's overdriven and it's a little rough around the edges. We like the idea of removing the pressure of having this robotic-level of competitiveness we were kind of involved in within the scene. I'm in love with reggae and true roots music and and the aesthetics of that sound and there will be more in the future from us that have it, we aren't abandoning those roots. But this is so exciting going down this new path. 
What did you have to learn or teach yourself from a musical standpoint to start traveling from a reggae-oriented sound to this more psychedelic-rock sound? 
I feel like I had to relearn a lot of sounds that I created in my own sessions. I'd use multiple tools in the box doing sound design and then learning to play them on guitar or with a synthesizer. A lot of the playing style that comes with "Break Through" is dusting off old chops that I had when I was younger when I played a lot of rock and metal stuff, before reggae. I'm learning how to be more aggressive while I'm playing and not so calculated, more expressive. It goes without saying that Kevin Parker is an influence.
How fundamental is surfing to your identity and what it provides for you? 
It's pretty close to the center. I've had plenty of ideas of moving places for better access to music industry stuff, but so many times I've come back to the fact that I need to have access to the ocean so I can surf. So much of the music I've written over the years is directly related to time out on the water. I don't write songs about surfing but while I'm surfing melodies pop into my head and music starts flowing, when I'm not thinking about it. I'll realize I've been humming this bass line for 30 minutes and then I'll go in and record it onto my iPhone before I forget it. That's where almost all the music comes from. 
Surfing gives me community, it's a pretty tight-knit, localized spot in my hometown. At first it was a really frustrating thing for me because I felt like you weren't allowed in the club unless you were already in the club. As I grew up I realized you have to pay your dues and you'll have this pretty awesome family from Stuart, where I'm from. I got on the other side of it and you have this big group of people who are there for you and they were the first people coming out to our shows and paying money to support us, through and through. Still to this day I'm equally stoked to go out on a knee-high day on my log as I was when I was a kid first figuring it out and having my mind blown about this crazy cool thing.