By: Garrett Bethmann 
      My gut begins to collapse inside of itself like a falling star everytime I think about the impact this damn virus has had on the people who make a living playing live shows. In these unprecedently dark times I can only feel respect, admiration and fuckin' joy for musicians like Spencer Kilpatrick. The recent Arizona by-way-of Nevada transplant is the type of dude who'd rather put money towards a new amp than food and prefers a cramped van of zonked musicians racing to the next show than the confines of a spacious apartment and a quiet night with friends. 
It's no surprise his musical aesthetic is similarly gung-ho, sweaty and fit for drinking cheap beer in noisy, concrete basements. With his Reno, NV bands Failure Machine — a.k.a "the world's grossest soul band" — and MELK, he's made a name for himself in the greater western underground DIY rock scene as a commanding guitarist who sings with the earnest gruff of a scuzzy Joe Cocker. Unpretentious and relaxed in his day-to-day demeanor, you might not remember him if you just met him at a bar, but you'd certainly remember picking your jaw off the floor if you happened to catch him unleash his passions on stage. 
(Full Disclosure: I've worked together with Spencer Kilpatrick on musical projects in the past)
Much like his entire musical output, this stained blue-collar musician has approached the ongoing crisis with a very workman's-like attitude. Kilpatrick lost his job with the social distancing guidelines a couple weeks ago and was left staring at the void in both his schedule and bank account. But even with the world changing so drastically around him, Kilpatrick knew he couldn't just change who he was. He was going to still continue to clock-in and do his work as an artist and musician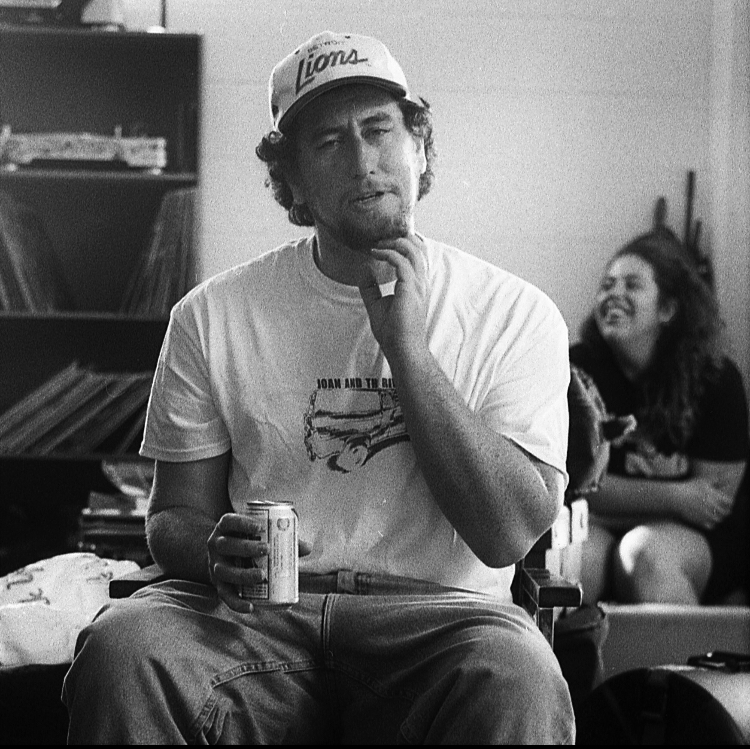 So two days after having lost his gig playing guitar at a high-end resort near his home, he had already written, recorded and released a two-song song EP, Jade/ You'll Be Here, cut on a simple old Tascam Portastudio with just Kilpatrick and his guitar. Since that first release on March 20th, the songwriter has released a new, intimate EP each week, from lo-fi R&B to scratchy rock and roll, with a pledge to keep making these off-the-cuff recordings until he gets his regular gig back. In addition to the four EPs that have come out already, Kilpatrick is slated to release duo EP "Hold On" with soul singer Megan Moore on April 17th and solo EP "Four Blueses for Tim Parsons" on April 24th. 
"With no excuses to grab onto I've started going through old material and giving myself daily hours to sit, read, write, and record. A handful of friends and strangers have paid for the music on Bandcamp and it's been amazing. It's helped pay my rent, I'm really appreciative of it," said Kilpatrick.
Even though the industry has effectively shut down, Kilpatrick is ramping up production and it's paying off. He's on some blue collar, punk-postman, rally-'round-the-mic shit I can't get enough of right now and he's faced this crisis with a refreshing matter-of-fact practicality about who he is and what he does: he's a musician, he writes songs, he records them, he drinks some beer, he does it again. Virus be damned.
 Listen to Spencer Kilpatrick and check out Going Left's rundown of all of his recent pandemic releases below…
Jade/ You'll Be Here
Chirping birds open the easy "Jade," with Kilpatrick answering in kind with sweet chirps of his own from the guitar. "Cars sitting in the backyard/ eating some weeds" sings Kilpatrick, setting the scene of a place that isn't moving too fast. There is something unpretentiously devine in Kilpatrick's playing and delivery on "Jade", like he's just an off-the-clock angel, smoking cigs from his trailer as he watches the sun go down. "You'll Be Here" yearns for re-connection, with Kilpatrick writing this song for bandmates he left behind in Reno after his move to Arizona. Nostalgic, his depression lifts a little as he channels his longing into a hopeful solo. By the end of the song, there seems to be an optimism that they'll cross paths in the near future.
I Tried
Recorded with his sister Jimi under the moniker Ely, this trio of ragged soul songs is as loose as they come. Kilpatrick's songwriting is the highlight on this release, as his knack for crafting quick and effective hooks is apparent despite the rough, bare bones quality of the recording. "Isn't That What You Wanted?" comes quick out the gate behind a no frills, 1-2 beat, with the guitarist's stomping riffs matching the excited beating of his pleading heart. "I Tried (Slip Away) is a jangly, doo-wop rock number that is as simple and satisfying as beer and day-old pizza. "Be My… " is a slow-burning plea for a girl he wants "to be my lady, my sugar, my queen." The tension eventually bursts into a high-voltage solo and one last emotional plea from Kilpatrick to win over his beauty. Recorded with just one vocal track, one drum track and one guitar track, the I Tried is uncomplicated to the point of crude but what it lacks in production, it makes up for in earnestness. 
week 3 tape
Third time is the charm for Kilpatrick on week 3 tape, which shines with the most personality out of the guitarist's initial releases. He lays it on sweetly for the lo-fi groove "shawn kemp," the blurry wah-wah guitar helping the song come to a full, warm bloom of relaxed R&B. He then flips it over to the cold streets of midnight for "how this goes,' slowing the rhythm down and turning up the blues. His guitar scoots along on a pin-pricked melody with an ominous bass line lurking underneath, siting lonely and scared in night "I'm a product of my own decisions, it's easier to take the blame than to change how I'm living," sings a hushed but steadfast Kilpatrick, searching for a way out of the darkness. He finds that light with the easy-going, stream of consciousness bounce on "shoulder to shoulder." It's spry back-porch blues number that features Kilpatrick's best guitar work as he skips and slides over the neck of his guitar with ease, a "cya later" send-off for a three-song EP that's happy to hang out whenever you wanna do it again. 
Night at the Neva
This puke and rally debut one comes from The Happy Trails, one of Kilpatrick's most recent side bands.  It's one of the best straight-forward, fun garage albums you'll have heard in a minute, just cruising around on boundless energy and unpredictable fits of passion, a group of friends looking for an edge. "Night at The Neva" is a surefire blast of butt-rock bravado that careens around the neon wasteland of Reno with reckless abandon. "California Rain" is pleasantly ferocious, finding a beautiful balance between Kilpatrick's neon soul voice and the crunchy, soaring riffs and "I Don't Mind" is a fuzzy, loose loop of chugging guitar that sparks like a live wire. The Happy Trails sound like it doesn't care about anything else but having a good time together, one that you might not remember.