By: Garrett Bethmann
You wouldn't believe it, but Austin, Texas musician James Bookert is a shy guy. 
The guy who qualified for Warped Tour skateboarding, battled it out against Rebel Wilson and Anna Kendrick in Pitch Perfect 3 and has been rippin' banjo on stage with trash-grass superstars Whiskey Shivers for years is shy. On the face of it, that doesn't make any sense.
But when you catch the bittersweet heat of his new solo project San Gabriel you'll begin to hear a side of Bookert he hasn't had the courage to reveal until now and you'll understand this is where his quieter thoughts have been hanging out, checking out the party scene from a safe distance along the back wall. 
His first single "Another One" opens to bleary maroon skies, where "summer time has come and gone/ and I'm wondering what went wrong." There's a melancholic hum to Bookert's voice that draws you in close, inviting you to slow dance alone at your own birthday party in an empty room of streamers, wilted balloons and half-eaten cake. There is a weightlessness in accepting your loneliness and that release of not caring how sad you are is the mournful joy San Gabriel is trying to capture in his lo-fi, sad party blowouts. 
His upcoming single "Cruel," out December 5, follows that same party to its late-night conclusion, with sinewy strands of synths streaking over a digitized midnight sky. 
It's a departure from Bookert's regular gig as bano player in Austin, Texas' rough and rowdy Whiskey Shivers, but that's kind of the point. For over a decade the band has seared stages with their trashing bluegrass-inspired music, their raucous energy even catching the spotlight in Pitch Perfect 3 as the band Saddle Up, who faced-off against Rebel Wilson, Anna Kendrick and the Bellas. San Gabriel gives Bookert the opportunity to showcase a more subdued musical energy, one that has space for introspection, vulnerability and groove. He recently teamed with Good Wolf Live for his first solo performance and his goal is to record a whole album playing all the instruments.
It's a daunting task but one that has the musician excited to embrace and flow with. He may be shy, but James Bookert as San Gabriel is a wallflower that's beginning to bloom beautifully.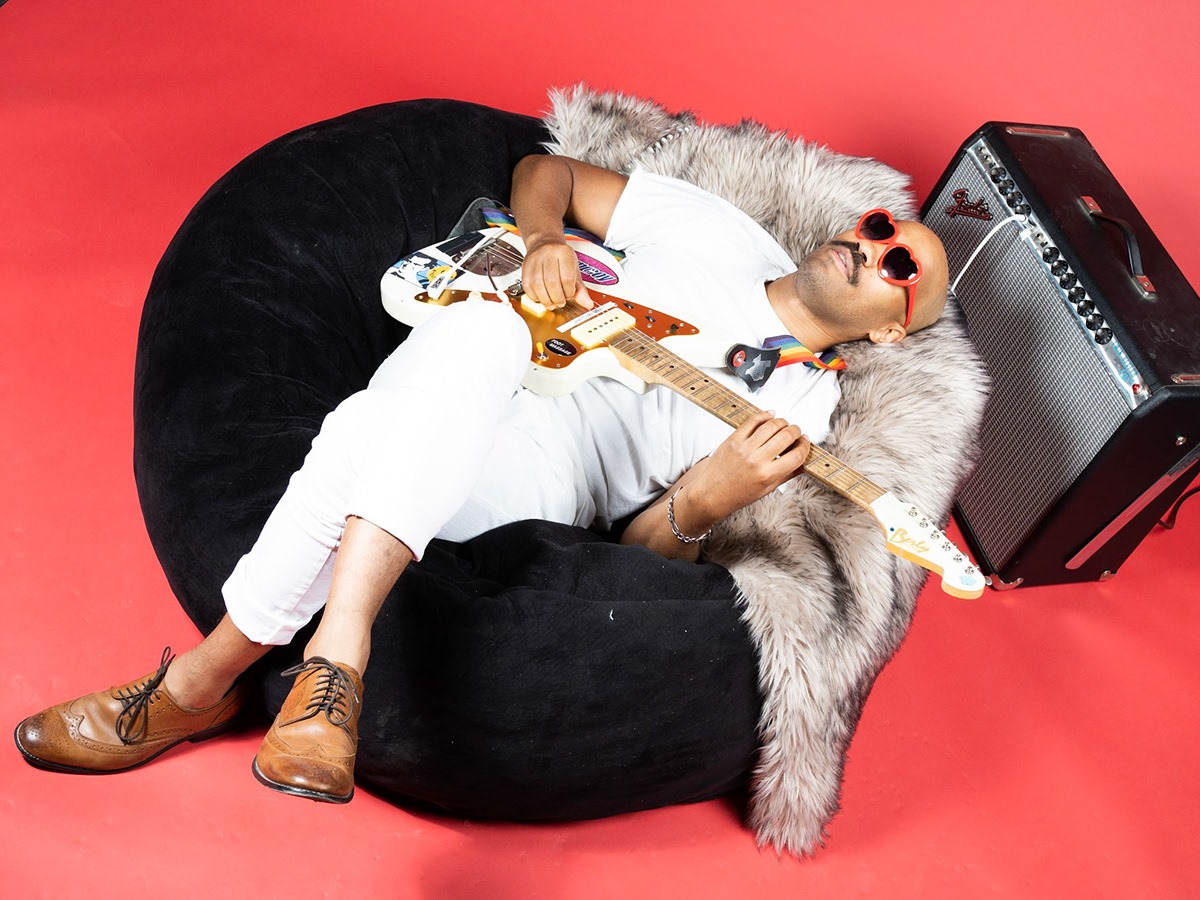 Photo: Joel Sutton
Read below for an interview with James Bookert. This interview has been edited for length and clarity.
What itch does "Another One" scratch for you? 
I guess a lot. I grew up listening to a lot of indie labels, both by genre and by label, with Built to Spill, Explosions in the Sky, Modest Mouse, but also 80's pop music. I have Ableton and got really involved in the process of writing pop songs. I play banjo in Whiskey Shivers and I love it, but I forgot I play guitar (laughs). It was a different way to write for different things I couldn't do with other people. Essentially, I've always wanted to do a record by myself because I play a lot of instruments. I hope to share a lot more of my influences that wouldn't work well in a bluegrass-style band. 
How does "Cruel" compare, the song you have coming out December 5th? 
For whatever reason all my love songs are sad. I have a great partner and a really nice relationship (laughs). "Cruel" was one of those things where I was at work and I challenged myself to write a song in a half-hour. I wrote that song in that span of time and it was one of those sad love songs, where the first line is "I can't believe I could be so cruel" and I ran with it. I like it. That's the thing about this solo thing, there's no democracy about it, I do what comes to me. 
You've been doing these Busking Hour shows. How have they gone?  
I just did one. It was my first solo performance ever and it was my first San Gabriel show. I've done a couple live streams with Good Wolf Entertainment, it's what I'm doing tonight. They are awesome and I'm glad to play but I have a live band ready to go when this is all over (laughs), which I'm stoked about. What they would do if it wasn't quarantine is that they'd have a stage with three acts. So I played on a stage and people were walking by, literally busking. I used to be a "one song a year"-type of dude and my friend told me if I want to write songs I need to show up to work. Basically, if you want to write songs, write songs.
I'm pretty shy so performing solo is something I've honestly dreaded and it turned out to be pretty fun. I did a 90-minute gig solo and that was pretty cool, it got me taking more of my stuff seriously. 
I also wanted to get to your skateboarding. You really get at it, why do you love it and why do you do it? 
Just hanging with the homies and straight up Ninja Turtles. They got me into it and in high school I took it really seriously, I qualified for Warped Tour. I wasn't amazing but what's super cool about that is that it informed all the music I listened to. The very first time I heard Built to Spill was in Mark Johnson Park. Its a physical activity but one of my best friends in Austin I've been skating with for over 20 years. I don't challenge myself like I used to but it's fun just to talk shit and hang with the homies. There's a culture around it. I grew up in a small town and was kind of a misfit. It's why I got into indie rock, it's left of center. Skateboarding and music culture isn't very discriminatory. I think you could play baseball and get yelled at for being weird or gay or black, but in skateboaridng and music its so looked down on. I'd push myself to learn a new song like I'd push myself to learn a new trick. So much of who I am is from skateboarding and skateboarding culture.