By: Garrett Bethmann
For all the women out there who've had children, did the following conundrum ever roll through your mind soon after giving birth? 
How long until I can get back to kickin' in teeth and takin' names leading my punk band through a sweaty, rowdy show?  
Apparently, it was never far from Shehehe bassist Nicole Bechill's mind after giving birth to her daughter Ramona a couple years ago. Ramona's father Jason Fusco, who is both Bechill's partner in life and in rhythm as Shehehe's drummer, was grappling with the same question. At this point, guitarist Noelle Shuck was both a congratulatory friend and anxious band member trying to keep the band sharp in between gigs. Ultimately Bechill and Fusco came to different, though similar answers. 
"Me and Jason stopped practicing for only one week then we were back at it. Nicole's first show back was six weeks after Ramona was born. We don't really take time off (laughs), which means this band is a constant part of my life and a pretty high priority. We've all sacrificed for it because it's shown us different parts of the world and life and it's super rewarding," said Shuck. 
Holding down a 9 to 5 at the Georgia Museum of Art, running a yoga studio, raising a child. That's just some of the normal, everyday shit Jason Fusco, Nicole Bechill and Noelle Shuck collectively have to do in order for them to do their punk shit as Shehehe three times a week and once again on weekends (pre-COVID). Of course, being from Athens, Georgia, moonlighting in a band or two is certainly not out of the ordinary in a place where international stars like R.E.M's Mike Mills and underground icons like Pylon's Michael Lachowski are nothing more than local hometown heroes. No matter how common it may or may not be, being in a band is a tiresome commitment and to integrate one's passion into everyday life with as much panache and success as the members of Shehehe have is no easy feat. 
Founded in Athens in 2011, Shehehe has spent the last nine years as weekend warriors firing-off rambunctious punk and roll in clubs and at festivals across the southeast with bottle rocket bravado and a spirited DIY attitude that keeps the band's fuse eternally lit. Over four full-length albums —  including the brand-spanking new Pet Songs on Say-10 Records — the group has developed a direct and aggressively melodic style that raises a fist in solidarity with everything that is fun and righteous in punk and rock. This outfit of Athens locals actively contribute and bolster the city's musical zeitgeist in both searing content and sincere character and their dedication to living a rewarding musical life is virtuous, if not heroic. That might be something real special in other places of the country; in Athens, it just makes you a townie. 
The group opened for influential punk band Bigwig earlier this year and were slated to play ahead of Against Me! in April before it was cancelled because of COVID. While the trajectory of Shehehe's rocket may have been altered this year because of the pandemic, Pet Songs is a boost of freewheeling energy that will blow your eyelids back and keep the band screaming through the sky. The trio's longevity shows they've got the fortitude and support of the Athens community to get back on track in the future. As they've done till now and as they'll do in the future, Shehehe will keep finding time to blow out the speakers in between work and nap times.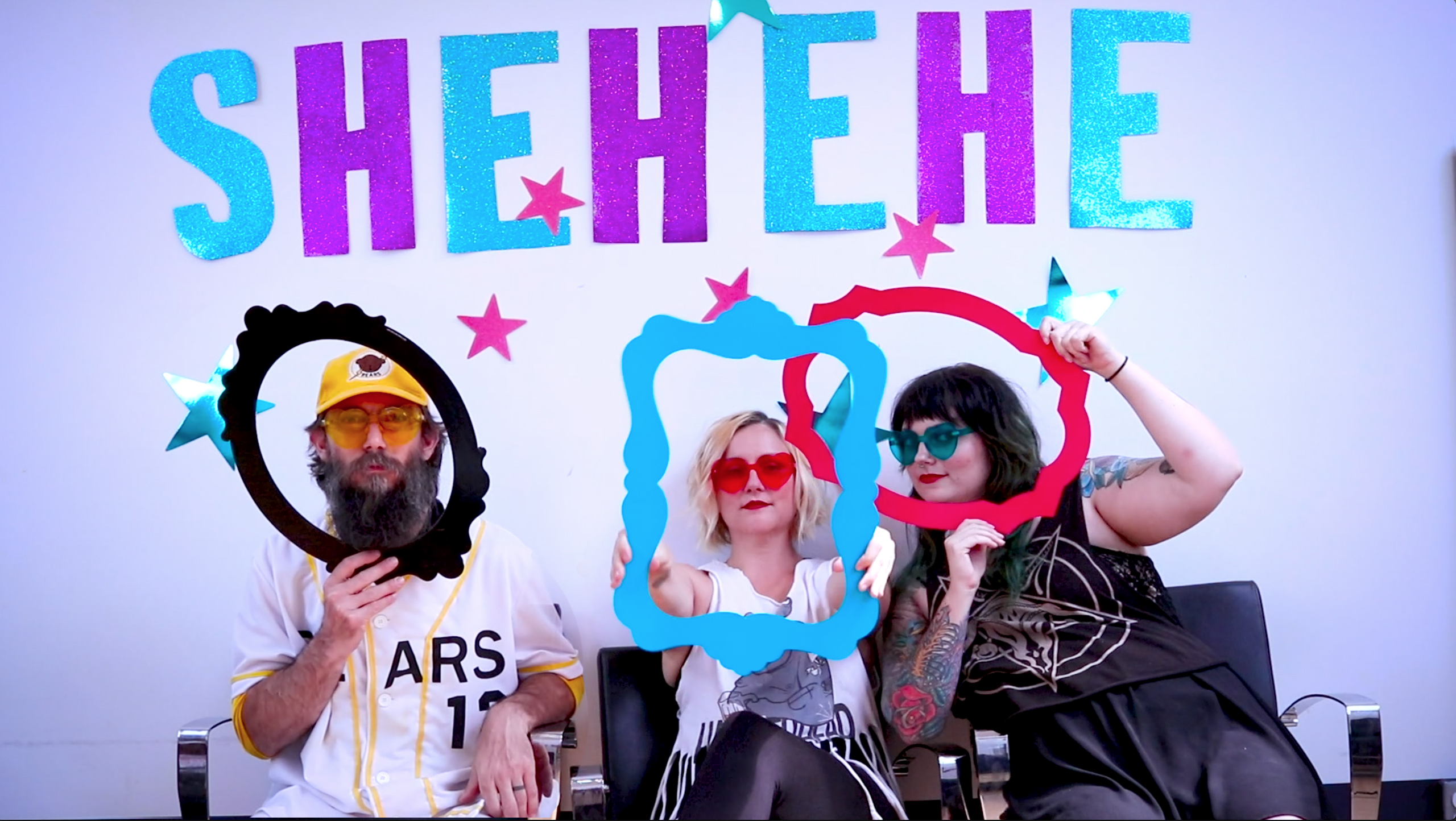 Read below for an interview with Shehehe's Noelle Shuck. This interview has been edited for length and clarity.
In a band that has been together for 9 years, in what ways is your dynamic not about music?
Obviously we are friends. This is the longest relationship I've had, outside my parents and maybe one best friend. They've been with me through life things and have seen it all. I do take it for granted sometimes and don't think about it, but then I'll remember that, "you were there last time something like this happened." Talking about Pet Songs, they're dog Chicken died during a practice of ours. They knew she was sick and that it could happen at any point and we came out of the band room and it had just happened. I had never known Chicken to not be there and be a part of this family. Ramona wasn't even two yet. That was a difficult thing and life changes in ways that extend outside of bands.
Is there any example on Pet Songs where you felt your creative limits were tested or pushed? 
I feel like we know when it clicks. This record is two years old and by the time we recorded the songs, they were maybe three years old, which makes this stuff five years old (laughs). "Down The Stairs," I love that song because of the push and pull of the tempo and stops that are really fun. One of our friends from Athens talks about curveballs in the right places and that's kind of what we got with this. 
"Your Hands" is my favorite on the album. What's that song all about to you guys?
"Your Hands" is about when things aren't going right or when things seem they aren't where you want them to be, to remember the person who loves you and what that means. It brings you back and gives you perspective to what's going on. "Take away the pain/ make me wanna live again," it's about comfort and love. Your partner being there for you and what that means. 
We have sort of a draw for not just punk fans. People are like, "I'm not really into punk music, but I like you guys." We do have a draw and expanded fanbase because people are into it who aren't necessarily into punk. Some wouldn't even describe it as that, just because we do have a lot of influences. It's an interesting mix of influences that just make this thing. 
Why'd you put up Pet Songs as "pay what you want," especially during this time when artists are most dependent on record sales and merch sales more than they ever have been? 
Obviously, we are not buying houses with this music. It would be great to do it but that's never what the goal has been. The goal has been to make music we love and get it out there for people to enjoy. We were lucky in this release because our record label [Say-10 Records], our friend Adam, paid for the production of the vinyl. We did pay for the PR side of it and we ended up spending about the same amount of money as Adam. 
What's awesome is that it was a handshake deal, Adam said he'd put this record out for us and he just does it. His thing is he'd like to make as much money back on the physical vinyl LP as he can so he can put out another record. For him it's also not about money, it's about putting out music that he likes to a community of people. It's also about giving people a bright spot during a real hard time.
Athens is obviously a very storied music community and you've been there a while. What's a part of the Athens community or the social dynamic that doesn't get talked about very often?
For me, being a townie of this place is sort of legendary status. People talk of the golden era with R.E.M, B-52's and Widespread Panic and all that kind of stuff, even Pylon. I work with the bass player of that band now, he's a part of the communications team at the Georgia Museum of Art. It's funny to be a part of the community and know these people, like Mike Mills from R.E.M. They're still making that history. They're just whoever they are, there's no pretense or ego about it. You run into them at the bar and you hug and say "let's set up a show together." It's that easy. It's funny to be a part of such a zeitgeist but not have it feel like that, it just feels like part of your life. I think it's cool how accessible it really is, we are just normal people doing extraordinary things. 
For the more well-known people, I think they still care a lot about their community and consider it home. They are very generous with charities and trying to fund underserved populations or Nucci's Space, which is this local spot and organization that's invested in suicide prevention and musicians. They are a local resource that has counseling, reduced prices in medical care, a library of self-help books, rental instruments you can practice with at their space. That is something a lot of Athens musicians have benefitted from and makes them want to give back to it when they can. 
When was the last time you were able to play music or experience music that was not related to the work side of things and was devoid of intent or purposes beyond just enjoying music? 
I have another music project that's like lounge-jazz-blues kinda stuff, it's called Tempest. I sing with my friend Katie and we have a keyboard player and a bass player and we added saxophone recently. That's been great because I can shift more of my emphasis on singing and a different quality of voice for that. I grew up in chorus and singing has always been my number one. I'm not that great of a guitar player — I play with conviction and can write parts that are alright — but I'm not the most technically apt person at it. It is nice to only focus on one instrument and in a different genre too. Jason is in another band called Vision Video, which is kind of like new wave and The Cure. So he gets to stretch his musical muscles too and it helps all of us kind of stay fresh. 
What do you think the story of Shehehe has been up to this point, what is it now, where do you think it's going?
When we started out we didn't know anything about anything, we were friends who just wanted to play music together. But from our first show we kind of knew it was something special. To be a band after 10 years is a feat in and of itself, even though we've been through some changes. It's still kind of incredible to me that we do this thing. I think we have a deeper understanding of what our purpose is with the band and what music means to us and what our product means to us, which it's obviously more than that.
Your reputation starts to precede you, not only because of your music. People always tell us how much they think we're good people and how much they like us for who we are as people. That carries over with the rest of it because we do try and do the right thing and have a good sense of morals and really think about things. I saw bands who I thought were the "thing" at the time going about things a certain way and we wouldn't do it that way. I realized because it doesn't make sense for us, we should be doing it this other way. Then you inspire other bands to do it that way to. 
We've been very cognizant of how bands do certain things — even load-in and load-out — and it's a constant state of reconsidering what's right. But it's gotten us to a point where we have a reputation as a fun band with good people that people like seeing live and hanging out with. Hopefully when all this is over, we can kind of get back on that track.