By: Garrett Bethmann
Somehow, some way, New Orleans' Valerie Sassyfras is going to catch your eye. 
Maybe it's her spiked salt and pepper hair and rousing cat eye makeup or one of her bedazzled, disco exercise outfits that'll first strike you. Could be her accordion-keyboard combo or the Madonna-styled headset microphone she wears with as much authority as the Material Girl. If none of those things move your pupils, it'll most certainly be the fact the 65-plus year-old woman is shaking her ass up on stage, hopefully with the lovely Sasshay Dancers behind her, singing with blissful conviction, "Girls night out, I'm gonna go crazy. Girls night out, I'm horny and and I'm lazy." 
It definitely caught the eye of Ellen DeGeneres. In spring 2018, the comedian and talk-show host amusingly showed a clip on The Ellen Show of a solo Sassyfras singing her now famous song "Girls Night Out" at a children's Mardi Gras party. The audience didn't seem to be paying much mind, but Sassyfras was going full tilt with her keyboard and choreography, seemingly oblivious to their indifference. She had a small stage on which she could sing and dance on and that's all that mattered. 
Millions of people took an interest in the musician and her weird stage presence and song. She soon found herself on a much bigger stage to sing and dance, making it all the way to America's Got Talent to perform "Girls Night Out," more than once nonetheless. She wasn't enough to win over the judges but for Sassyfras, it was never about winning, it was about getting up there in front of thousands of people (millions if you count T.V. viewers) and being herself. 
Being herself is the only way Sassyfras knows how to operate. She's been a French Quarter fixture for years, luring people into her orbit with her outlandish costumes, bizarro songs and cabaret charm. She's released four albums of original music, opened for Tank and The Bangas and Portugal The. Man, and has busked for dinner when she's needed. Whether on a street corner or a stage, she'll throw everything she's got at you with a zany sincerity that empowers you to raise a glass and follow her lead, no matter what your first impressions may have been. In a city made up of all the musical madness that reverberates down its streets and alleys, Sassyfras is another crazy piece of the collage that makes New Orleans unlike any other place in the world. 
Something that you might not catch right away amidst Sassyfras' eccentricities is the depth of substance to both her life and music. She's been a musician since the 1980's, playing klezmer music and starting the cajun zydeco band Sassyfras with her late mentor, muse and husband Johnny Donald. Through the 1980's and 1990's, the dynamic duo traveled across the country playing music, selling instruments and using music to express their love for each other. These rolling stones owned a short-lived club in Nashville called the Bayou Jubilee, and lived in New Orleans, Arkansas and Florida, among other places. Sometimes they lived in a house, sometimes they lived in a van, but they always found somewhere to perform. 
Following a bike accident in Florida involving Donald that kept him relatively homebound, the couple moved back to New Orleans in 2011, where Sassyfras started gigging at a local Picadilly Restaurant. With her musical partner at home, the New Orleans native started to come out of her shell and create her unique style with nothing but a keyboard, pre-recorded tracks and some dance moves. When Donald passed in 2013, he was Sassyfras' biggest cheerleader and supporter, and though he is gone physically, Sassyfras still imbues a little bit of his spirit in every song she writes and performs. 
Sassyfras' songs certainly are unique. Like the musician, minimalist they are not, with Sassyfras throwing so many sounds and noises and effects onto one song it feels like it will collapse under its own gaudy weight into a musical blackhole. Also, her vocal range and timbre is more fit for monologues than belting out melodies. But when you peel back her frenetic aesthetic and accept where she is as a singer, you'll find there is a lot of musicality in her songs. She's got a thing for finding hooks, no matter how quirky they may be and songs like "What Are The Poor Folks Doing Tonight" has as much sentimentality and songwriting chops as Eric Clapton's "Wonderful Tonight," record scratches and all. 
If there's one thing to notice about Valerie Sassyfras, it's that she's an authentic musician who has got more heart and conviction than just about anyone on the Billboard Top 100. She's a one woman wrecking crew who finds vitality in performing for anyone who might give her a chance. Once you see her do her thing, it'll be hard to take your eyes off her.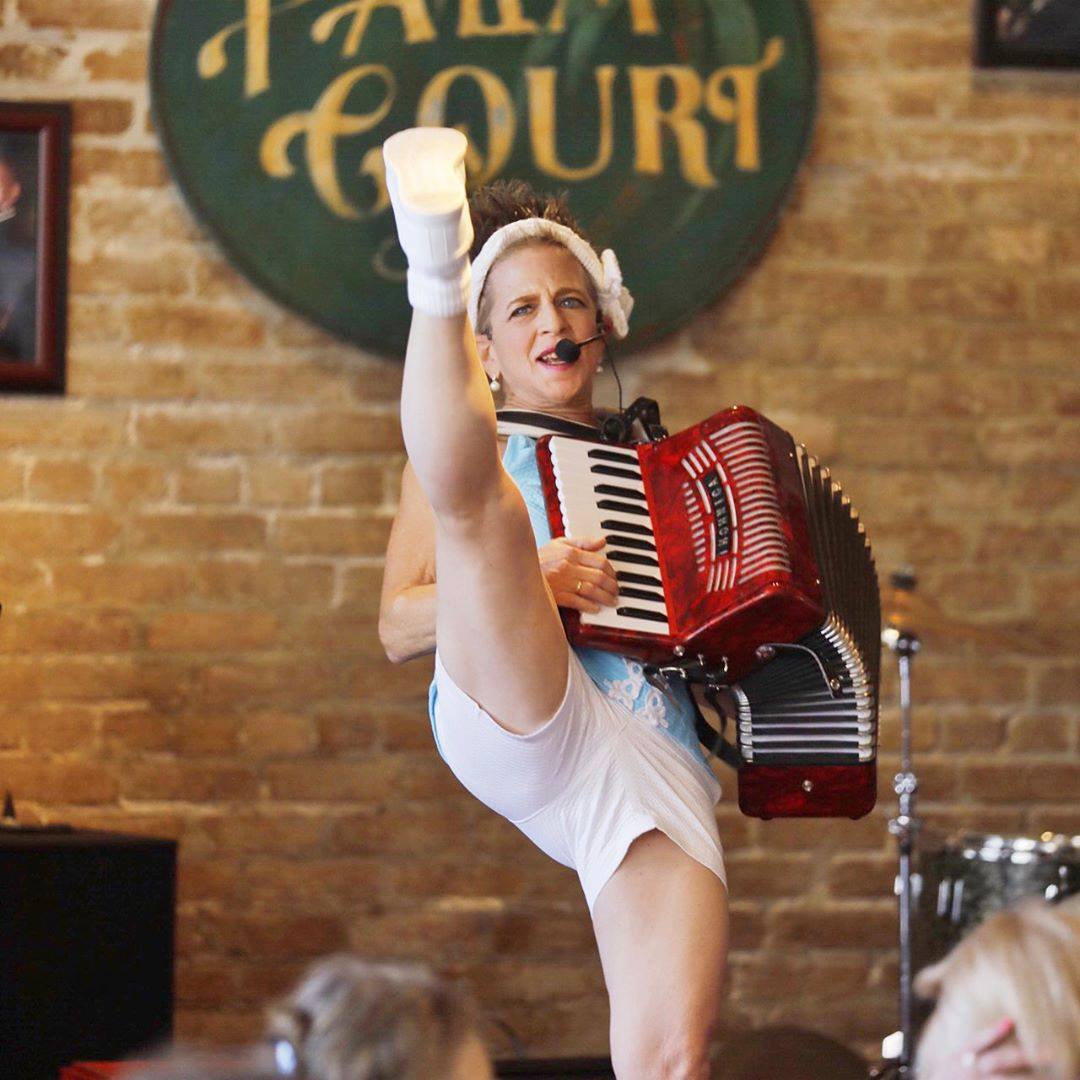 Read below for an interview with Valerie Sassyfras. This interview has been edited for length and clarity. 
How'd you start doing your solo music? 
I was playing at Picadilly, three times a week. At first I was sitting down and playing and I'd come home and I thought I wasn't making that much. Johnny said, "maybe you should start standing up and moving around." So I started working out choreography on every song and I started doing so well that the waitresses were pissed at me (laughs). They thought I was putting my hands in their pocket. The manager was only supposed to keep me on for a year but I was there for three-and-a-half-years because he figured I was good for business. 
You've said your late husband Johnny Donald is still a muse for you? How does he find his way into your songs? 
He's still with me in my apartment. He comes to me most everyday and makes these little sounds. I don't know what he's saying, but just the fact I know he's here is very comforting. When someone loves you and devotes themself to you for 30 years … he still keeps me going now. He's still my inspiration, always will be. Songs like 'Weather The Storm,' 'What Are The Poor People Doing Tonight?,' "Me and Sassy Queen" (laughs). They all bring me back to him.   
I know you've opened for some big artists, including on a triple bill with St. Paul and The Broken Bones and Tank and the Bangas. What was that night like? 
It went great. I also opened up for Portugal. The Man. That was an amazing night, thousands of people were there. After the show, while I'm walking around, all these girls in their 20's were looking at me with stars in their eyes, like I'm Carole King. They would take my hand and say, "thank you so much Sassyfras, I love your music, it's so empowering." They had a look in their eyes I've never seen before or since. I felt really special that night. I was told by my buddies later that they were mimicking and following my dance moves.
Is that the type of validation you are looking for when you are performing, that personal connection? 
I'm grateful for anything (laughs). I'm like an addict. I play every weekend outside because I need to play in front of people. I found me a spot on Oak Street, which is a cool little street with coffee shops and restaurants and The Maple Leaf, which is a famous club that's been here for years and years. That's what I'm doing tomorrow, Saturday and Sunday if the weather permits. I love performing, any type of appreciation feels good. 
What's key to capturing an audience in your mind? 
There is no trick to it for me, I'm just so happy that I'm performing and people just feel it. They feel it and it feels contagious and they just relax and forget about their problems and get into the moment. I don't have to think about it or plan it out. It doesn't even necessarily matter what song it is, it's just feeling it and performing. People can sense if you are sincere or not, they respond to that.
When you think of the history New Orleans and you have together, what's a quintessential story of what's possible in that city for you? 
We were playing on Royal, closer to Canal. It was Easter Sunday and we had a big parade down here thrown by Chris Owens, who is a local celebrity down here and has her own club. People come from all over the area with their finest outfits and fanciest hats. All the rich folks come down with their kids and go to Brennan's Restaurant. 
We were selling kiddie guitars and stands, it was a whole package. I kid you not, every kid that came out of Brennan's we ended up selling a little guitar. We were playing music too. Johnny sold his acoustic guitar, I sold my accordion to a tourist who just had to have one. A musician bought a whole P.A. from Jonny and we made like $1,300. It was a long friggin' day, we played for 10 hours straight without stopping. It was an adrenaline rush, we were just making all this money and you can't quit, you know? That night we were rich, so we went to Verti Marte and ordered big. We treated ourselves and walked up to the levy, got in the grass, ate our food, got high. That was a perfect day from start to finish.