By: Garrett Bethmann
Ojai, California is a land of magic. 
Nestled northwest of Los Angeles, it sits in a peculiar valley whose east-west orientation is geographically — and possibly metaphysically — unique. Surrounded by mostly desert, Ojai is amazingly fertile and green and offers gateways to the Los Padres mountains to the north, Pacific coast to the west, bustling L.A. to the south and desert to the east. The environmental mystique mixed with the oddball-artist escapees from the city give Ojai a magical vibe, and one person trying to put those vibes to tape is musician and sound designer Scott Hirsch.
Hirsch is the type of person you'll most likely hear before you see. He's an auditory auteur who revels as much behind the mic as in front of it, linking together an exciting passion for auditory experiences that have connections in both the music and film worlds.
Within music, Hirsch has found himself on a long musical journey that started in the 1990's, making music in Southern California with friend M.C. Taylor. After moving to North Carolina, the duo founded Hiss Golden Messenger in the late 2000's, which started as a folky whisper that has grown into a folk-rock howl, with widespread acclaim for Taylor's earnest songwriting and the group's sophisticated sound. 
Hirsch departed and has released two earthy albums of his own, 2016's Blue Rider Songs and 2018's Lost Time Behind the Moon. They've got that humid, desert-swamp wavelength of musicians like J.J. Cale that's perfect for long drives down longer roads. His sound design and production style is one that doesn't feel like you are listening to music, but rather listening to the natural sonic environment, like surreal field recordings of panoramic musical landscapes.
This June saw the release of Hirsch's first live album Hirsch and the Minglers Live at The Colony, Tulsa. March 17, 2018,  a hot recording of one of his band's most memorable stops on tour for Lost Time Behind the Moon. Like Ojai, Tulsa, Oklahoma has some subtle mysticism Hirsch is drawn to that keeps the nights weird and the players incredible. The album levitates nicely in a dusty mirage of open road boogie and swampy psychedelia and offers inspired takes on some of Hirsch's essential songs, like "No No" and "Blue Rider."
Hirsch's sound design has also found its way into movies, where he's done scoring, editing and mixing among other duties. The intersection between Hirsch's passion for film and music has led to the formation of Echo Magic. For Hirsch and his partners and collaborators, Echo Magic is a way to connect to the artistic people of Ojai and the intriguing environment of the valley to help better tell stories through music, movies and sound. 
The company has both a music arm of operations and a filmmaking one, with founder Hirsch and his partners Daniel Wright, Erin "Syd" Sydney and Brendan Willing James all coming together in their collective proficiencies in musicianship, sound design, production management and visuals to create enticing art. The company's varied work has included recording and editing the score for the documentary First Cow, mixing work on Netflix's documentary Ram Dass and sound designing for commercials and interactive art experiences. At the heart of it, Echo Magic is all about putting in the work so its people can play with sounds in ways that excite them. 
Echo Magic's upcoming release on Friday July 3 for Daniel Wright's debut EP Wild House is a perfect amalgamation of what the company hopes to build upon as it evolves. It's an in-house labor of love, with everyone at the studio having a hand on either the musical or visual side of production (another Echo Magic-heavy collaboration is radiant folk band Radio Skies, which features Wright and Sydney and has been warmly received in the Ojai region). It highlights one of Echo Magic's own while also featuring low-key but notable collaborators like Mikael Jorgensen of Wilco and Karl Hunter of Big Bad Voodoo Daddy. Though a solo debut for Wright, the music comes from a highly developed sense of sound and space, where not a note or sound feels arbitrary and music choices that are slightly out of the box yield hugely satisfying results.
Scott Hirsch's music is cosmic-cana at its most laid-back and open, his sound design is impeccably immersive and the sonic world he is building with his partners at Echo Magic is a tucked away gem that is increasingly becoming an essential destination for artists, filmmakers, music lovers and audiophiles alike. Just like Ojai, it's kind of a question mark as to how all this magic settles so comfortably in Hirsch's world, but if you take the time to travel there — whether physically or sonically — you might be able to take a few secrets back with you.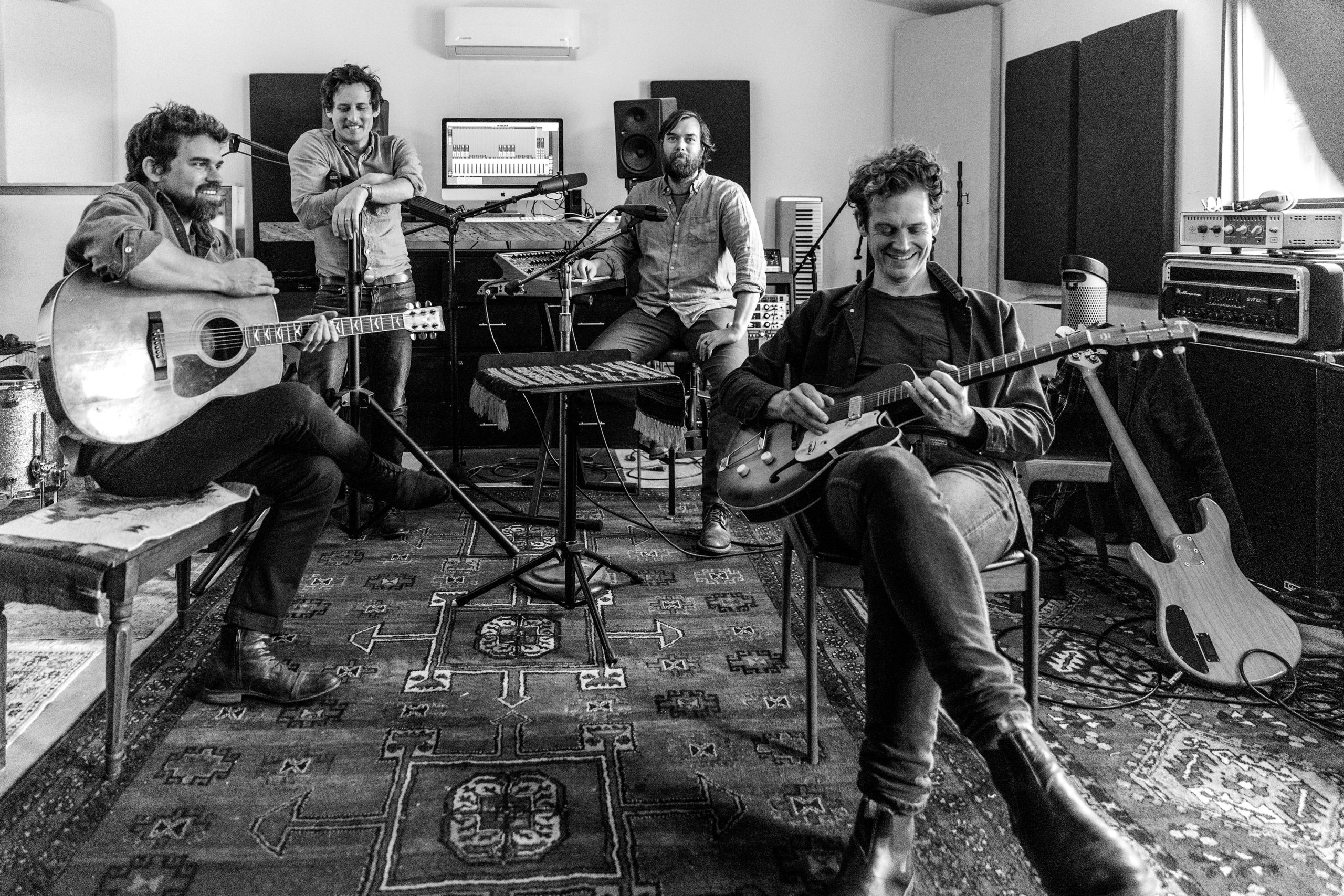 *This interview has been edited for length and clarity. 
How do you organize all your different occupations as audio engineer, musician, label head and business owner into your identity? 
I think of it as a lot of the same stuff, at least I'm trying to steer that way. The goal is to hone the tools to make sure they were all related to each other. For example, the last film I worked on I did music editing for one of my favorite filmmakers Kelly Reichardt and my friend William Tyler — who I've played music with for years — scored the music. This is when the music and film worlds I'm in kind of overlap a bit. 
Echo Magic is not just me, it's a small team and we're focused on keeping it in that zone. It doesn't have to be me all the time and that's been really helpful. Some of the work is pretty obviously in my mind a way to subsidize the creative work in a way, and that's always the goal. We love making records and we're going to do what we need to do in order to do that as much as we can, that's kind of a mission statement.
What do you see as your aesthetic and your point of view in the audio world? 
I think my superpower is I have a good filter. You can do everything now, get every instrument you want virtually or physically. There's no limit on what you can throw at a record. One of my specialities is having a good filter and knowing how to say no and to hone in on an idea, to make sure you're adhering to the original vision. It's knowing when to steer a project through those challenges in the most direct way. How do we get to the emotional core of this the fastest way? 
In the liner notes for the live album you released from Tulsa, you spoke of the The Colony, where it was recorded, "It's where in-the-know outsiders like Clapton and Harrison once lurked, trying to learn from the local pickers by osmosis, which I confess was also my angle that night." What were you trying to pick up from these players and this venue? 
I've been obsessed with music from there, like Leon Russell, J.J. Cale and The Gap Band. There's a deep music scene there. When I made my first record and I was looking for somewhere to release it, I was put in touch with Dylan Aycock of Scissor Tail Records, where I release music on. He's from Tulsa and immediately heard those inspirations in my music and he also saw that it made sense to him. 
There's all these musicians there hanging around who are never going to leave Tulsa. They're just gonna stay working these bar gigs and killing it. They're making amazing music and not traveling anywhere. Everyone is still about when Clapton came in the 70's (laughs) and poached all their musicians, which he did. There's a story about him and George Harrison hanging out at this bar The Colony, a little hole in the wall that's great. I felt like I was walking around wondering, "is anybody seeing how awesome this music scene is?" 
Dylan's brother Jesse Aycock is the guitarist on the album and he's just smoking on that recording, it's kind of one of the reasons I wanted to put it out there. The people down there just have it in their blood. Don White opened the show and he's an older guy who actually goes back to playing with J.J. Cale. I played a couple shows with him and there's just this feel thing they have I can't describe, it's just a Tulsa thing. I'm not saying I'm the first to discover this, but I don't think it is as talked about in American music. 
Did you feel that magic in the moment or were you only reminded of it when you listened to the tape?
I had such a fun time and I had been planning on going back there soon. It was such a fun band and it was really short lived, maybe two tours. I've been remembering how fun it was. I'm not a huge fan of live tapes, I think it's really hard to really capture the spirit in the room. But when I heard that it got me excited because I could feel a little bit of spirit from that night and it's also a little bit of nostalgia going on. With everything going on recently it felt like Tulsa was on everyone's mind and it was on mine and it was with this band from Tulsa, in Tulsa, so I really rushed it in. But it's cool.
Your record Lost Time Behind The Moon is a special one for me, very much one that speaks to both my love of the desert and the fact I love to listen to your music on the road. What about that environment in Ojai is one that makes you want to live there and make music there? 
Lost Time Behind the Moon is really my ode to Ojai. I've lived here for five years and I moved here from Brooklyn. What's at the heart of that record is about this place. There's some history here of really interesting characters going back to the 50's and 40's, where it's been both a Hollywood escape and a zen meditation center before that was hip. There's a lot of songs on there just about living here and I think it just informs the music from osmosis. It's being in this world and making an effort to include other people from here in it.
The other thing that was happening during that record were those really intense fires. I have some pretty distinct memories of driving back into town after our evacuation to grab the hard drive the record was on. It actually could have been lost but luckily the studio was standing, barely, there were fires all around. We were just standing in all this haze and I have these memories locked in my mind when I think about the feeling on that record. 
I like to make music for the road and driving somewhere. That's one of my favorite places to listen to music, so I like to think I make music somewhat for that experience.