By: Garrett Bethmann
Flying Mojito Bros = Fun. 
That's a simple enough equation for everyone to understand, right? That's good, because all you really need to know is that the Flying Mojito Bros are some cheeky blokes from the U.K. who blow out the dancefloor with their cosmic reimaginings and evolutions of American rock, country and psychedelia from the 1970's. 
While much of the music that gets sampled and picked apart by electronic producers these days comes from soul, funk, jazz and R&B, producer/musician Ben Chetwood and DJ/crate-digger Jack Sellen go panning for A.M. gold from dusty stacks of CSNY, ZZ Top and The Doors. These Briton bandoleros have created their own unique manifestation of paradise, a desert daze of micheladas by the oasis, smoked-out Mustangs ripping through scorched canyons and nothing but four on the floor and interstellar slide guitar pulsing from the speakers. The Flying Mojito Bros are bumping house raves with Gram Parsons and The Lizard King as its esteemed musical guests, who isn't lining up to try and crash that party? 
The duo's "refritos" are some heady, voodoo-disco thumpers that expertly expand on a song's panache and add brilliant strobes of guitars, drums and loops to make it irresistible to dance too. In addition to Frankensteining vinyl classics, they've garnered commissions from modern artists like Scott Hirsch, Flamingods and Black Peaches that fit the group's galactic-desert aesthetic and are looking to put some dancefloor zing onto their catalog. Flying Mojito Bros' original songs, like "Five Mile Hike," are adventures into themselves, emanating the psychedelic pizzaz that come with shimmering guitars and pounding bass. 
By going down the dustier paths less traveled by electronic producers, Flying Mojito Bros have found a rich musical palette that is underutilized and seemingly infinite in its abundance of tiny sonic gems. They've taken the adventurous spirit of the American West and applied it to a musical vision that is only just beginning to really gain traction and notoriety. These wah-wah cowboys might be from the U.K., but damn if Flying Mojito Bros haven't put a fun twist on American music.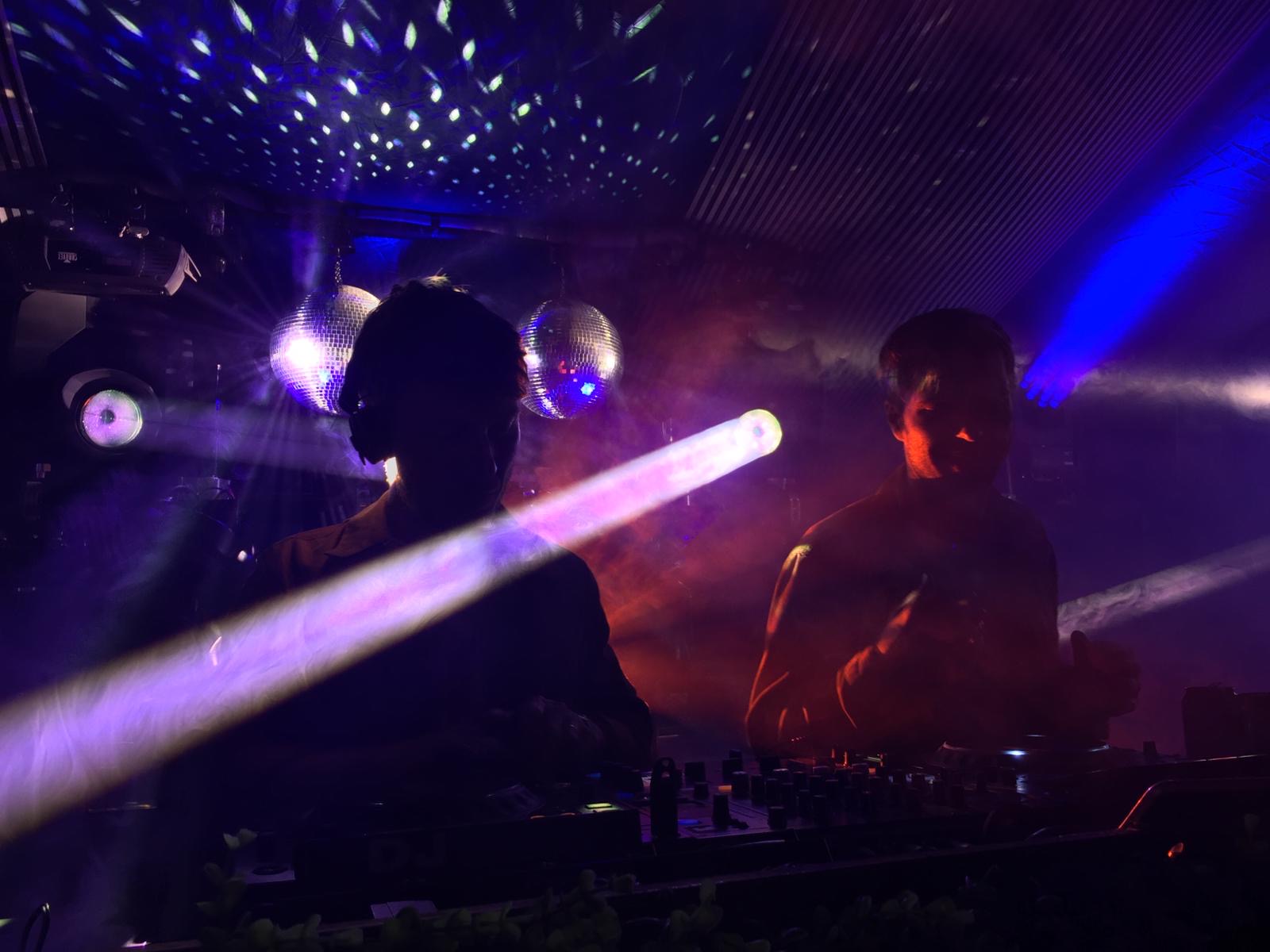 Read below for an email interview with Flying Mojito Bros. This interview has been edited for length and clarity. 
What's the Flying Mojito Bros origin story and how does the band Black Peaches play into it?
Ben's brother Adam Chetwood played lead guitar for them during their first few years – and I remember being invited to go and watch the first gig of what someone called "the new jazz band he's in." The description of course isn't really that accurate, meaning their live gumbo of voodoo-country, rock-jazz-funk-disco positively blew my mind. Not only is it out of this world but I also wasn't expecting it! Once we'd seen and heard them and realised there were other serious devotees to that kind of music we love, we suggested we DJed at their next gig, creating a few edits for it, and we were off. 
What song do you think really highlights the uniqueness of your project? Why? 
We think we'd go for "Keep On." That track probably took the most twists and turns of any, from start to finish, with us talking through the many changes for a pretty long time. It was worth it as the end result really demonstrates our sound. House-y desert disco for long late-night drives with a killer surprise vocal sample. On the other hand, for a more party starting track we'd pick "Southbound Again," it's irresistible.
How'd you cross paths with Scott Hirsch and what was that whole process like in getting "No No" done? What musical elements are you hearing and are attracted to in artists you want to collaborate with?
We connected on Instagram somehow, either we DM'd him or vice versa. He kindly sent us an advance of his as then unreleased second album and "No No" jumped out as such a jam, that definitely lent itself to a rework. We love Scott's self-production – he effortlessly walks the tightrope of making the most of both modern and vintage technologies without it sounding like a lot of the theme park, retro stuff about these days. Authenticity. That's what we're looking for among modern artists – alongside a sound that's relevant to ours of course.
It's really cool also that everyone whose music we've worked on has given us complete creative control. That trust is very liberating.We reached a while back the turning point when artists started approaching us to rework their music, which is always very rewarding, particularly when it's someone we mutually admire. But we still make the first move if something strikes us as a good idea.
In making a "refrito," what creative challenge excites you the most? In making original music, what creative challenge is the most rewarding to overcome? 
In making a refrito, it's the challenge of adding just enough to musically complement the original, and not detract too much from what makes the song great in the first place. The best outcome is when the refrito both pays homage to the original, but is a fresh work in its own right.
 In making original music the most rewarding creative challenge for us is to encapsulate that FMB sound (most of which is born of sampling 70's guitar-based music) with modern tools. We often have to look further afield musically to satisfy the criteria, but we are proud of our ability to be versatile, so we're happy working in such a way.
Can you describe a tour through America that felt kind of like a realized dream that ticked all of the important boxes of what Flying Mojito Bros was supposed to be for you? 
We've yet to properly "do" America. We were invited to play at Austin City Limits last year, which naturally was epic, but the dream is to take a roadtrip tour out west to the musical motherland around California and neighbouring states. We had exactly this lined up for March – hiring an RV and playing parties from San Francisco to Reno through Yosemite down to Vegas then across to Palm Springs and L.A. Really no idea when our second attempt is going to be possible again.
What's one of your favorite reactions you've gotten from someone coming onto your music in a live setting for the first time?
We're at a party at The Social in central London and we hand a stick to our friends at Heavenly Recordings who are DJing, which had the then-unheard final version of the 77:78 "Chilli" remix they'd commissioned us to do. One of them mouths "Fucking hell lads!" The grins on their faces were really memorable.
Part of the fun playing to crowds of FMB rookies is kinda hoodwinking them. They tend always to let loose and have a really good time, probably not knowing that almost everything we play during those hours has been produced by us and they probably wouldn't choose to come if they saw the genre on a poster described as country-gone-house-music. 
Especially in the U.K. club scene, country and 70's-rock aren't necessarily dirty words, it's just that the world has next to nothing to do with them in reality. And even though it's mostly all terrible, the country-EDM-pop crossover taking place in the U.S. has been helpful in priming people – if only conceptually – to the thought of big beats alongside slide guitars on the dancefloor.
What are your plans for the next couple months?
We're really excited by the amount of new material in the pipeline. Three new mixtapes are about good to go – one of which we're releasing as a limited edition cassette. There are several official remixes of both contemporary and golden-era 70's artists and we've even got our first gig back this Saturday by the pool at a newly-launched members club just outside London.
How does your sense of adventure link up with this music and how you experience Flying Mojito Bros?
Good call, that's a word we use quite often to describe the sheer sense of fun and pleasure we derive from working as FMB. It's led to some amazing unexpected opportunities for the two of us. Long journeys sharing tunes; Zoom calls with rock royalty; cracking up in the studio at some heathen mish-mash that shouldn't work but absolutely does; making friends with extraordinary people; it's always fun and adventurous.