By: Garrett Bethmann
Apparently everyone in the indie-psych Class of 2007 wanted to party with Nashville's Okey Dokey this year! 
No other band has Yuuki Matthews (The Shins), Carl Broemel (My Morning Jacket), Chris Taylor (Grizzly Bear) and Dave Harrington (DARKSIDE) getting producer credits all over the place on its third album. There's definitely reason to celebrate the communal grandness of Okey Dokey's sonic spectacle on the album Once Upon One Time. 
Bold, extravagant and welcoming, Johny Fisher, Aaron Martin and long-time player, first-time band member Jeremy Clark are a tight and mushy bunch, playing their zooming, warbly soul confessions with a conviction and confidence that only invites more fanfare when you hear how much fun they are having. It's a strong evolution as the band sought out more of the space and weird corners of their musicalverse to spend their time. 
Once Upon One Time is a heady number that continues to throw you deeper and deeper into a chartreuse groove of hazy pop with each spin. Fisher, Martin and Clark pieced together their tracks to an almost realized product, then sent it off to the respective producers for them to make the final changes and give the finished product their definitive creative glaze. It was more the group has ever relinquished but they were hoping to highlight the contributions of others, take a more malleable approach to their process and build more of a community around their music. Well, it worked! 
It's a successful foray, yielding the most wide-ranging results of the band so far, from the Mars-bound monologue of "Throw Me a Bone" to the crunching, pitter-patter rhythm of "The Right Fit" to "To Be Real," which sounds like doo-wop records freshly melted on synthesizers and an 808 drum pad.
"I hope they see a more exploratory side of the band. It feels really nice not to care about where we are and care just about existing," said Fisher.
In these suppressant times that type of unfettered outlook is greatly empowering. With every spin of Once Upon One Time Okey Dokey is adding helium to your balloon, pumping a little more juice into the party. It's a 2020 coming out party for Okey Dokey and I think everyone should be stopping by for a little rager.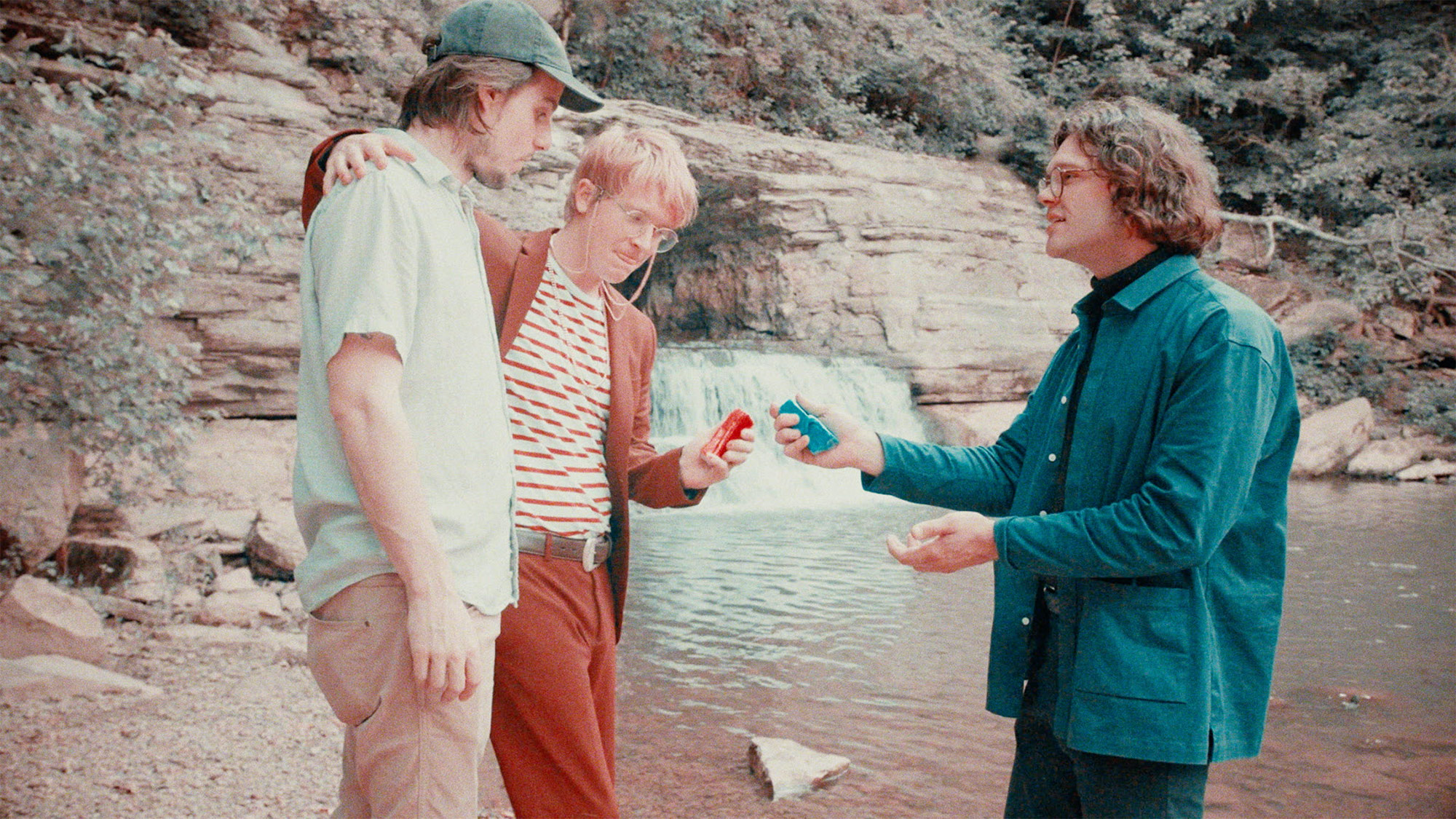 Read below for an interview with Johny Fisher and Aaron Martin. This interview has been edited for length and clarity.
You have a community board up on your website, doing different things on Instagram. What has been revealed to you in engaging with more and more people in that way during this quarantined time? 
Johny: We definitely started strong with that but it caught up to us. We also had to make videos and animated videos and take photos. Turns out it's impossible to get online and do something every week (laughs). We'll definitely start doing them again with the album release. It may appear very calm and chill online, but in order to finish all these things we're running around at home and playing catch up. There's not a lot to do besides put out cool things to make people feel good for four minutes from a shitty day. That's the point of all of it, visual therapy, musical therapy, content therapy. 
I've heard artists talk about how the beginning stages of music artistry is imitation of what you love, then speaking in a broken language the more you learn, finally becoming fluent enough to speak and express yourself fluidly. Who might have been someone you were imitating and where do you feel like you are on that developmental arc? 
Johny: Much like you said, you listen and imitate what you find appealing. We definitely love anything old, especially when we first started. It was old school doo-wop and feel-good stuff that makes you not want to do anything but smile and bop your head. But we are also chameleons and listen to extremely modern things. I for one only listen to old country and story stuff (laughs), though classical music is blaring in my van currently. We really enjoy blending doo-wop structures with extreme 60's and 70's synthesizers because its really not thrown together. It's taking the feelings of these genres and turning them into their own thing and it still feels really good. We love making people smile and making people think and what better two genres? 
Aaron: I have to agree with Johny. It feels weird in this day in age to say you only play one type of music. In the older music, you find a lot of open melodrama and hilarious depictions of people, where with the feel good comes the story of where it comes from, which is really the feel bad, unless you can crack up at yourself. The consistent theme amongst us is satire and comedy in music. I'd say my favorite writers ever are Roger Miller and Lee Hazlewood and Tiny Tim and Meat Loaf. People who can write this droll that is so beautiful and hilarious, that's kind of the human experience.
You have a lot of cool names here, Yuuki Matthews from The Shins, Carl Broemel from My Morning Jacket, Dave Harrington from DARKSIDE. 
Aaron: Johny said to call up Yuuki and that was great cause Johny loves The Shins and so do I. We both thought of Carl, we could go hang out with him and talk to him, he's blown our skulls off at festivals before with reverb. Back to the materializing thing, I adore DARKSIDE and we wanted an electronic element on here. I was literally talking in a coffee shop and talking about how pure it was to release a bunch of stuff but not in a selfish way and to move on to write another record. I was telling him we were reaching out to these people we respect and love and it felt like I was materializing things because I had just worked with Chris Taylor from Grizzly Bear who I love, they are one of my favorite bands. I reached out to him right there getting coffee then a couple hours later he lets me know he's interested. 
What felt like the biggest growth spurt for Okey Dokey, whether that be a mind state, process, soundscape? 
Johny: Well since we'd write and record everything, we'd send it out to members of other bands who'd produce and re-track things, mix it and send it back. Each one was a surprise. Most came back pretty much what we thought they'd be but some came from really left-field. That was really interesting for us because we worked with so many people but we weren't there to guide the final product, we were just delivering the content that became the final product. 
Dave Harrington did that first track "Throw Me a Bone" and for me it's our most daring because it's so out of our comfort zone. It's so spatial and full of strings, then big distorted guitars and a big lush landscape. That felt very growth-centric for us getting out of that pop, doo-wop and mainstream structure. Here is just a weird journey we'll start the album with. 
Aaron: It was one of the first times I was honest while being super thorough in the concept to help make a full record you can sit and take your time with. That Dave Harrington track was for me as well one of the most exciting things for the group. We didn't bury everything in metaphor and jokes, but it wasn't just about ourselves, it was vague enough to be about anyone. I thought we were going to sign a deal with this record so I thought if we are going to get a full boost, let's give them transparency but not try and teach anything. 
Part of the community aspect was to learn about a song and care about and realize that it's not necessarily my own and really engage in that concept. When Dave took the song, I told him I wanted it to be so boisterous. I saw this record as my first chance after sobriety to really be with the band and people. I really wanted the song to be bombastic, I'm ready to learn to drop the bullshit and ego.