By: Garrett Bethmann
For all the ways in which you can play the game of life, there are only three rules you need to abide by: paradox, humor and change. 
The first rule is life is one big paradox, a mystery that needs to be understood, not solved. Secondly, finding the humor in life, especially at your own expense, will keep you resilient and laughing. Finally, the only constant in our life is change, nothing ever stays the same. 
Now, these are not my rules per se, they form the core philosophy preached in the pseudo-memoir Way of the Peaceful Warrior by Dan Hillman. I'll save you the details, but essentially, a young and unsatisfied Hillman finds a mentor in Socrates, an older meta-mysterious gas station attendant who works the graveyard shift. Socrates is essentially a counter-culture Mr. Miyagi with his own unique ways of waxing on and waxing off. 
I couldn't help but be reminded of Socrates and his rules after talking with percussion provocateur Mike Dillon. For one, with the excited grey hair, piercing eyes and a nurturing growl for a voice, Dillon is straight out of central casting for playing Socrates in a movie (the role went to Nick Nolte in the 2006 movie adaptation, so not far off). More importantly, Dillon's whirlwind, 30-plus year musical career has embodied paradox, humor and change like few have and his latest album Rosewood, due out July 17, captures the essence of those tenets with illuminating clarity.
Mike Dillon is a percussionist whose wealth of musical experiences, spastic musicality and astonishing breadth of knowledge make him a left-of-center sage who balances the wild and serene with a joker's twinkle in his eye. Rhythm is a lifestyle for Dillon and he's used his plethora of percussion instruments — from vibraphone to marimba to tabla to whatever might be handy — to turn both his audience and himself onto the transcendental vibes that emanate through his music. His passion for music travels at the speed of sound down whatever rabbit hole he comes across, with Dillon always finding some kind of curious, sonic Wonderland to explore.
Anything but boring, Dillon has surrounded himself with musical characters and projects as varied as his interests. His brash punk-funk sensibilities can be found with his early groups Billy Goat and Critters Buggin' and he's been a colorful sideman for artists like Ani DiFranco and Les Claypool. New Orleans and it's rhythmic heritage was Dillon's longtime home and found him playing with anyone, anywhere in the city, including with jazz old guards like Johnny Vidacovich and James Singleton and new funk world leaders like Galactic and Garage A Trois. 
The percussionist's new album Rosewood embraces the softer, compositional aspect of his music and is another paradoxically pleasing album from Dillon. Recorded in Kansas City with engineer Chad Meise and drummer Earl Harvin, the album uses solely vibraphone and other percussion instruments. As someone who takes traditional jazz and classical percussion relegated to the sideline and makes them front and center in rock, funk and punk shows, Dillon has a proclivity at integrating seemingly opposing forces.
This shows up on the album in a song like "Mulatu Goes to India." Dillon imagines the tabla rhythms of India drumming through the mind of Ethio-jazz forefather Mulatu Astatke, an Africa meets India musical conversation that started from a drum circle with friends in America. "Hurt" finds a safe space between Nine Inch Nails' soft agony and Johnny Cash's stoic lament, with Dillon's version sounding like a wounded music box playing on the porch of an abandoned mansion. His most successful paradox is expressing the depressing lyrical content of Elliot Smith in an instrumental "Can't Make A Sound" that is decidedly hopeful. 
"I got my jazz influences and I've always been into Elliot Smith for that type of music. Being lyrical, phrasings, that's why I like instrumental music. It can mean whatever the listener is going through, they can apply that to their life. There are some people who can't listen to Elliot Smith because they say it's so depressing, but playing instrumentally the melody of what he's saying is kind of like a children's record. There's a sweetness to it," said Dillon.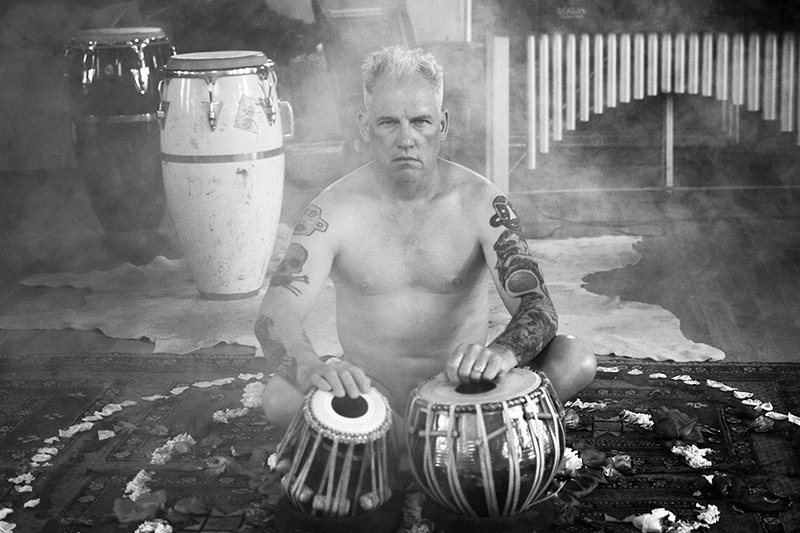 Though relatively subdued for a Mike Dillon album, there are still absurdist flights of fancy on Rosewood that reveal a surreal humor streak in the way the musician approaches his compositions. Opening number "Tiki Bird Whistle" sounds like a stroll down Bourbon Street in a Dada painting, while "Sober at Mardi Gras" gives off a low-key House of Mirrors aura, despite the fact it was written after boisterously marching the streets with Big Chief Monk Boudreaux at Mardi Gras 2019. It's fitting Dillon would look at the ridiculous eccentricity of New Orleans' Quintron & Miss Pussycat for inspiration on "St. Claude's Drone."
"I did a couple gigs on marimba with this guy in New Orleans, Quintron & Miss Pussycat. He has this thing called the Weather Warlock and he does a lot of cool things with drones. This instrument is this crazy tube that spins outside and goes into an analog synth and somehow creates tones based on the weather and the velocity of the wind, I don't know the exact specifics. 'St. Claude's Drone' was inspired by my experience with Quintron and the art community down on St. Claude Avenue. My respect to Quintron and his world," said Dillon.
What Rosewood especially captures in ways both conscious and unconscious is the change that permeated through Dillon's world. It chronicles the bittersweet transition of the musician moving from his cherished, long-time home of New Orleans to Kansas City. The move was not only a physical one, but an emotional one too, as Dillon dealt with the whiplash effect of breaking up with one partner, only to very quickly fall in love and marry another. Holed-up in a church that had been converted into a studio, he found sanctuary for his emotions in the sacred space. 
"There was a transition happening. This is relationship despair. It was weird for me. I fell in love really quickly after dealing with a break-up with someone I really love. I hadn't planned on a new relationship, definitely not married, and the next thing I know I was married in a beautiful church, writing these songs. On one hand I was letting go and processing a relationship, while this other thing was growing and expanding underneath me. It made the tone of the record," said Dillon. 
The timing of the release of the album certainly couldn't avoid the change we all felt around COVID-19. Like all musicians, Dillon was in shock after all the tour cancellations and loss of income. But he's managed to cultivate creative energy, finishing two records in this time, and has welcomed the chance to slow down and evaluate his life at rest after 30 years on the road. He's also had time to process the national conversation around racism and police brutality and, as a recovering addict himself, sees the parallels of a country reckoning with an overdue change.
"It's a metaphor. When a heroin addict finally kicks their addiction, they know it ain't working anymore and they get the information it's not working anymore, but they're trying to find some memory of it working. It's the same with racism here in America. It hasn't been working for a long time and like an addict going through withdrawal, we're going through it," said Dillon. 
Rosewood has an oddball charm to it that will always give you something interesting to dissect, much like Mike Dillon himself. He's a musical paradox who has become a percussive tour-de-force in demolishing genres and musical stereotypes one rhythm at a time. He's embraced the chaotic universe around him and has found a way to breed his own ridiculousness in it, which takes the music seriously, though not himself. He's a peaceful warrior for music and artistry everywhere, an old soul whose experiences have led him to understand his only solution for changing times.
"The solution for me is always in the music, that's what got me to quit dope on an individual level. I have to clean up so I can play music and play better music and hopefully make something beautiful out of this fucked up experience. That's where I am, learning, trying to be a part of the solution."