By: Garrett Bethmann
Seth Kauffman is a dude that lives in the mountains of North Carolina. In the hamlet of Black Mountain just east of Asheville he patches and repairs units for a real estate company. He washes his hands of a good hard day's work when he's done, retires to his own private Idaho, maybe puts on a record and drinks a beer while the stars pass over. When he can, he'll skirt up one of the many world-class mountain biking trails just outside his door. It's simple and unpretentious, just the vibe Kauffman likes.
I wonder how many people in Black Mountain know about Kauffman's other job? The one in which he records with the moniker Floating Action making heartfelt, nonchalant folk musings with surreal undertones. The one that also lets him be an under-the-radar sonic sidekick who has recorded with Dan Auerbach, My Morning Jacket, Ray LaMontagne, Lana Del Rey and others. 
For those not in the know, Kauffman isn't probably itching to tell them unless they stumble upon it themselves, the spotlight has never been for him. But in shunning the attention, he's allowed his creative voice to evolve into a powerful force suited to support, amplify and enhance the musical vision of the magic makers people do flock to. He's played with some of the most adored stars of this generation's musicians which is all fine and well, but at the end of the day, Kauffman's just looking to play good music with good people, he doesn't care who is listening.  
This dynamic has never been so refreshingly apparent than on the upcoming collaborative album, out December 4th, with friend and songwriter Michael Nau (formerly of Cotton Jones), billed together as Dream Sitch. Their collaboration started out as just a simple request from Kauffmann to Nau to write something he could just add some fun stuff over top of. That first song — "Now On" — got each excited enough to do another one the next day, which led to more e-high-fives and another meeting of the mutual admiration society of Kauffman and Nau. 
In 10 days of going back and forth they had an enchanting collection of spacious ruminations imbued with lo-fi soul and dream-folk rhythms perfect for cloud bursting. It was supposed to be nothing more than a sonic experiment between friends and without putting any real intentions or expectations behind it, they wound up with a killer album. For the two musical compadres, it was a dream situation.
As much as he can, Kauffman will continue to look for those dream situations. The shellacking Covid brought upon the music industry has shuttered all of Kauffman's touring (the majority of his income) and made scarce recording opportunities that used to be more abundant, though he thoroughly enjoyed a recent session with Montrose Recordings from Richmond, Virginia. For the most part he's been content to separate himself from the fame aspect of making music, settling into a lifestyle and routine mainly devoid of the part of his identity tied to music. He's realized his music is a present to himself that warrants only his appreciation to be worth creating. He doesn't need the fame as long as he's got the music. Simple pleasures for a simple dude that lives in the mountains of North Carolina.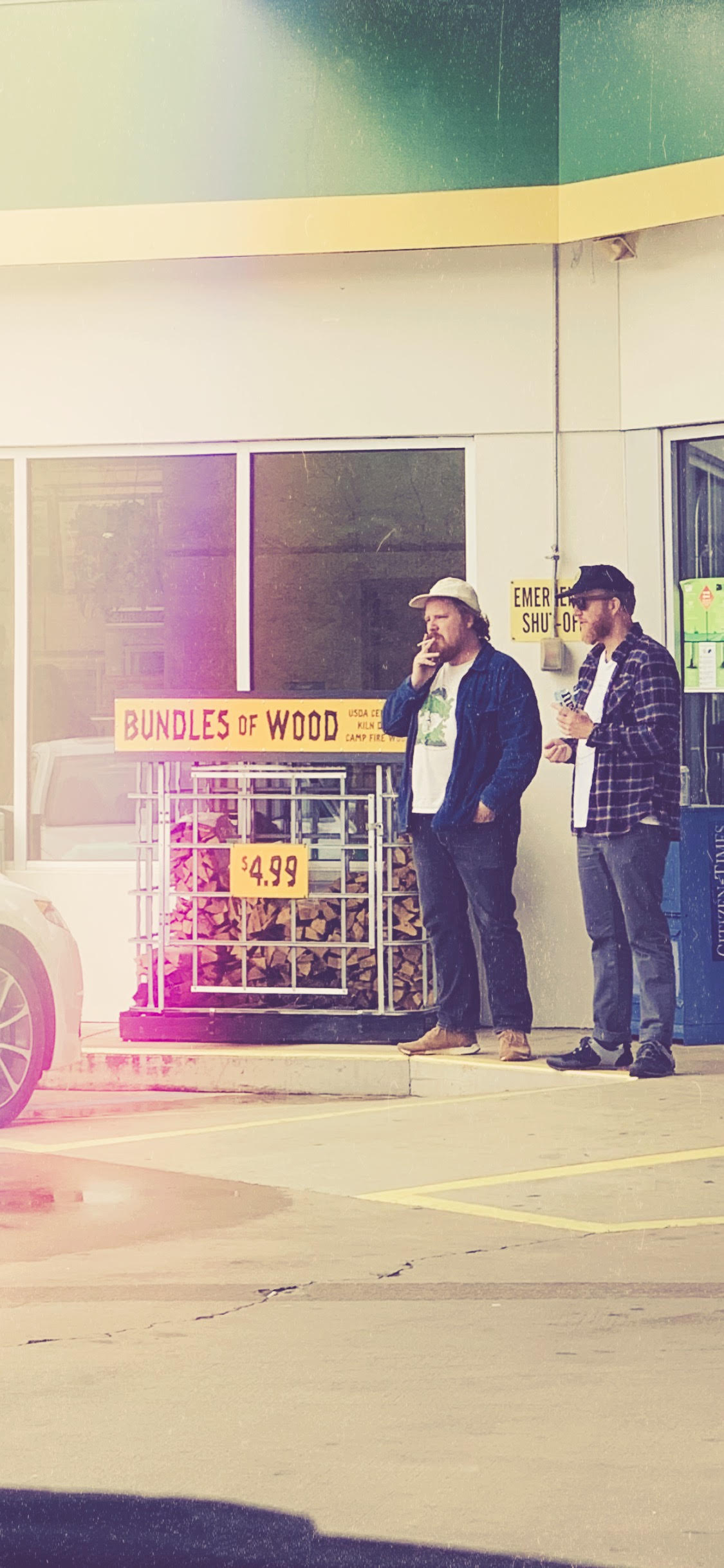 Photo above: Benny Yurco
Read below for a conversation with Seth Kauffman. This interview has been edited for length and clarity.
The new Dream Sitch album has a lot of good space on it. What's your relationship to space?
I love putting space in things, it's kind of the thing that is really hard for people to do, to chill out and not have something happening. Especially with Dream Sitch because Michael and I did it for the fun of it and remotely and there was no expectation of anything at all about what it should be. So it's a little jammy and we didn't feel the need to put a lot of things on it. 
The catalyst of it was Israel Nash. I played on an album of his the previous December down in his studio in Texas, so he knew I had a studio in my house and played all the instruments. So when Covid hit, he was like, "I got this song, could you add all the drums to it?" So I did and got a friend of mine in Asheville who plays saxophone with Michael Buble as his main gig to lay down some horns. It was so magical and I reached out to Michael Nau and told him to check it out. Michael's so prolific with writing and I told him to make something up and just send it to me and I'll put all this stuff on it. 
So he did one, which was the first track "Now On," and we put some shit on it and it was killer (laughs). That inspired him to write another one the next day and I was challenged by his one day feat, so I finished everything up the next day. We just kept going back and forth and we had eight songs in eight days. We might as well get an album, so we did two more and got one. 
That's where the name Dream Sitch comes from. We were like, "did we just make an album without us ever saying anything to each other? We just did it and it was the easting thing, it's the dream sitch."
What about creating a song plays to your strengths as a human? 
I was just texting a buddy today. Since Covid started I've been working as a handyman for this house rental place in Black Mountain. Touring is most of my income and it's not going to happen for a long time. I'm the kind of guy who gets trampled on easy by someone who wants the gig bad, and I'll just let him have it (laughs). There's people that are super cutthroat in the industry and I'm the opposite of whatever cutthroat might be (laughs), like giving work to people. 
When I write Floating Action albums I like creating something around an idea. When someone else has the first start of an idea and I can just get nuts with it, it's fun. It goes back to space, it's cool to be that sympathetic personality who is not putting yourself in the spotlight but whose instrument is highlighting the other guy. 
I play in a lot of people's bands and to be that "superstar" you have to be a person who craves that attention. I don't have that, so it's fun to play with people who do have that and watch them. To be able to support that is gratifying. 
You have some obvious love for mountain biking that shows up on your Instagram. What's your mountain biking situation in North Carolina?
I moved here in '95 and there are mountains around Asheville that are really steep in elevation. I think our house is at 2,300 and the trails are at 4,000 feet. We are also on the continental divide up here and there is one trail up here called Kitsuma where you go up about a mile then you come down on the continental divide. I don't know what the elevation drop is, but its crazy, maybe 2,700 feet in a couple miles. It's a pretty scary trail and I've been riding it since '95 and it has been cool to watch the evolution. 
The mountain bikes were rigid where you'd guarantee flip once per ride and now the bikes are so good I haven't wrecked in a while (laughs). It's so steep you can ride it balls to the wall and still not be going the fastest you could be. You never get tired of it because you can never conquer it really. It's a five minute drive from my house. In Pisgah Forest there are tons of trails, this is a mountain bike Mecca over here. I've come to the realization that Kitsuma is all I care about.
I read this Rolling Stone quote where Jim James was praising you, saying if nobody fucking catches onto it now, 20 years from now, somebody's going to fucking find it and they're going to be like, "Why didn't anybody fucking care?"  What's your relationship to legacy and what you do creatively ? Do you care if anyone cares about what you do? 
No I don't care. This is maybe getting too deep (laughs), but when Jim said that, it was an era in Floating Action where there was this weird phenomena where things were kind of happening. We were thinking we could blow up and that would always happen where a label would almost work with us, then be like, "nah" (laughs). It became this thing where people were wondering why we weren't blowing up and then they got freaked out that it's not big, like there must be something wrong with it (laughs).
I was working so hard on that as a band trying to tour. Then I was making good money doing recording sessions and I could still record Floating Action albums, so I should stop trying to force this to be a "successful" thing. Since then, I make records when I have enough songs and I don't even play them live and don't think about them and write them in the moment. They are like a present to myself (laughs). 
This is a deep confession but when I listen to Spotify I want to listen to old Floating Action albums (laughs). When you are playing the game and trying to tour it you don't really listen, but since I've entered this new phase of making them for myself I'll revisit one and think, "this is so cool, no one is ever going to care about it." I just have it for myself.