By: Garrett Bethmann
Cutting it up across Austin, playing music with your best friends and watching the stars fade into the dawn fueled by nothing but beers, cigarettes and laughs sounds great, doesn't it? 
Friends Anthony Santa Maria and Ishaq Fahim of Austin's brother sports certainly think so and we can't blame them. Take a spin around their new EP Mala and you'll feel that surge of "shit yeah" ebullience that defines a certain point in all of our lives where having the best possible time with your friends is all that matters. The duo's love of the musical nightlife and having fun is at the essence of its sound, which has evolved from a bedroom project to a blown out-and-about collective of zippy, textured indie rock, perfect for cavorting with a joyful night of possibilities. It's as if The Strokes went out for a night of drinking and ended up recording a Joy Division tribute EP with The War on Drugs after last call.   
If art reflects life, the band's earlier singles like "I'll Wait for You" and "Oh Baby" reflected a group first waking up from the warbled dream pop of the duo's bedroom phase, insular and hazy. But as Santa Maria and Fahim have spent more time out on the town, going to shows and growing the band, the music has grown to reflect what the band members saw on stage and experienced on a nightly basis: a genuine buzz from being happy and alive … as well as the beer.  
Title track "Mala" is a revved-up streak of expedient guitars that cuts through the unrequited angst of a failing relationship and "Distractions" is a high and tight bop that can and will charge many a late-night sing along in the future. "We love to see a band have a good time and that was a fundamental thing for me," Fahim told Going Left Music. 
Checking out its reflection in the mirror now, brother sports is laughing into a cracked bathroom mirror at a dive bar with graffiti all over it, chugging their last beer before they hit the stage. Looks good on em'. 
*Interview with brother sports below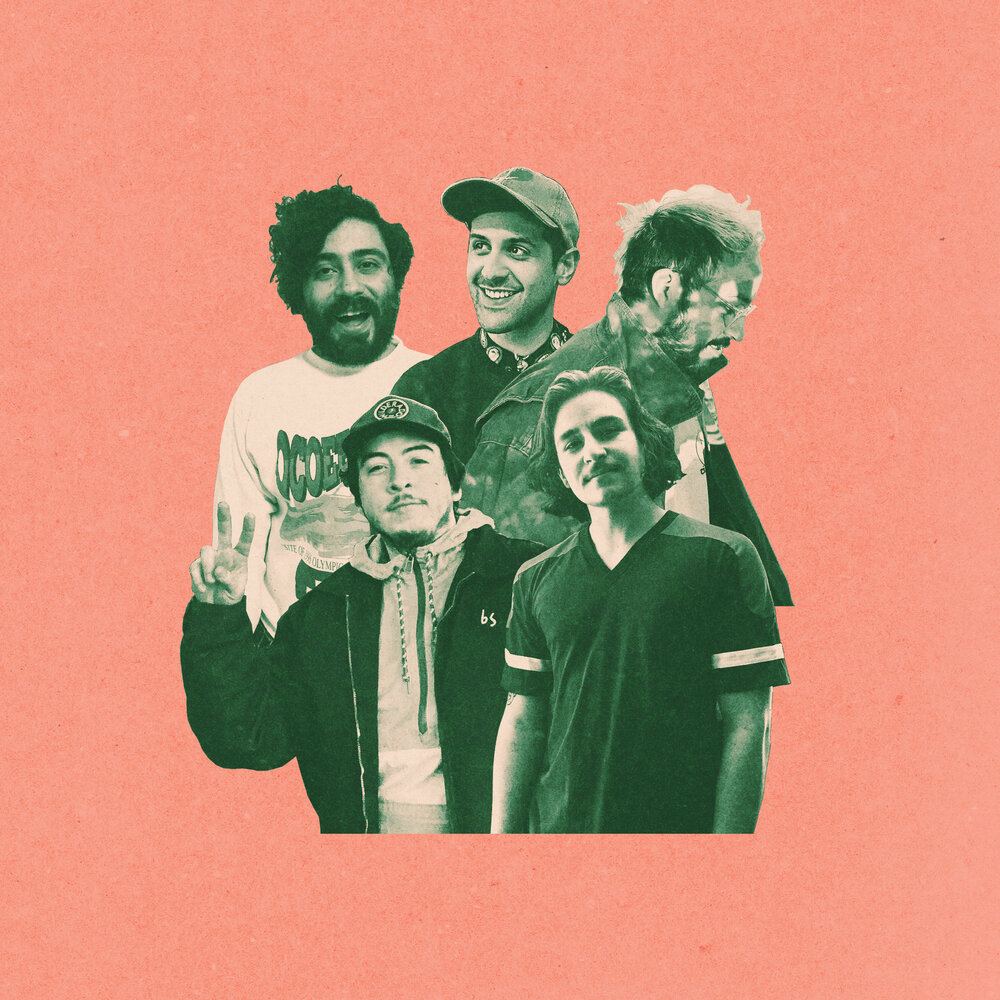 *This interview has been edited for length and clarity. 
Where does your name come from? 
Ishaq: The long story is we had a note on a phone with a bunch of phrases and words on it that we chose from. The short story is Animal Collective (laughs). 
What do you see as the origin of the band? 
Ishaq: Anthony and I had been recording demos in our house, us two, and I didn't even know how to play guitar when we started. I approached making the music as how can I pull in the influences I enjoy in a way I can actually manage? That's been important for us, wearing our influences on our sleeve. The lineup we have has been kind of steady so it's been great to allow more and more into it. I enjoy a lot of textures in the music. We're always wondering "what if we try this?" and find some weird little texture to throw on there. I do a lot of graphic design and I see music visually in a lot of ways, so for me it's a lot of layers and textures.
Anthony: We didn't know how to play anything. Ishaq knew how to make beats, but we didn't know any instruments, I couldn't sing. I think it became an outlet for us and we were both at a place in our life where we found each other and kept learning along. 
I believe in some senses music is a reflection of some parts of the people who make it. What is in this music that you believe is reflective of who you are as people?
Ishaq: The way we were recording before, it was the anchor in our relationship, the most central thing we had in our friendship. As we started to get more into it, it was like how do we grow this from a bedroom project to a band? We started going to shows as often as we could. We'd practice on any day we could with the idea that we would then go out and catch our favorite bands and walk around Austin to see what's up. We got a certain vibe from the music we liked and started listening to and we realized the most fun shows we went to were the ones where the people up on stage were having the most fun too. 
Anthony and I are pretty introverted people and the people we like are actually pretty introverted too. But you put them on a stage and they lit up and that was something I was really drawn to. That's been exciting about this EP, it's the first thing we recorded since we really started tackling the idea of playing shows. We used to record so that we could play live and now we play live so we can go record music.
Anthony: It was something we needed and we didn't even know we needed it. It was dope. 
What did you want to express with Mala? 
Anthony: We have a wide angle of different genres that we can write on but it's about having each EP have its own in a specific genre or style that we can write on. So if you listen to "Mala" for example, it's all pedal to the metal and out there and super fast and catchy and guitar-driven. Mala the song was probably the first song we ever wrote together. 
Ishaq: A really formative thing for us is we did a miniature tour through Texas and into Mexico. We met this band Deus Ex Machina in Mexico and they are really into the same stuff we are into and we hit it off with them from the start. They told us we should come play shows in Mexico and they followed through with it and we had a great time. We found what people were responding to and we pushed in that direction. We've wanted to align the music we play on stage with the music we have out on recordings, which was the idea behind this particular EP. We wanted to show people who we actually are instead of who we were. 
Off the Mala EP, what song best represents who you are as a band at this moment? 
Ishaq: "Distractions." It was personally the easiest recording experience I've ever had and it included everyone in the band bringing something different to the song. It came together so fast and it represents what we are as a band, especially live. It was one of the first times that felt like every single part was influenced by how fun it would be to play this song live. This is something that people really resonated with. It sounds like what it feels like to go see us live. 
Anthony: I have a sweet spot for "2069." Ishaq wrote it and when he showed me a long time ago, I was like this is awesome but we didn't have time to work on it. We were trying to finish up another song and we didn't really feel it and he pulled out "2069." We spent maybe two days and two nights trying to work on it and then I heard the melody in my head and I could hear backup vocals and I could hear they needed to be female or higher-pitched voices. It just came so quick and worked so well. 
You had this post on Instagram a couple months ago that said "3 am scenes in the brother's house," and you were just sitting there smoking cigs and beers out. I know those late night scenes and there's some of that in your music when I listen to it. What is 3 A.M. like at your house?
Anthony: (Laughs) Me and Ishaq try to write songs five times a week and maybe only one will catch. That's a lot of hours and a lot of days that go into trying to work something out, but you never know when something is going to bite. Sometimes it's in those late night times. There are times I think Ishaq gets tired of my voice because he's heard it all day. Sometimes you never know what's going to catch and I look for the moment when it does. It's that spontaneous moment we are constantly seeking to deliver something. 
Ishaq: I agree with a lot of what he said. I know exactly the post you were talking about and the picture. When I think about the people I know, I'll see them all at 8 P.M., I'll see them at 9 P.M.,  I'll even see them at 10 P.M. Then it starts to peel away and there are fewer people at 11 and even fewer at midnight and you keep peeling away. 
When you get to 3 A.M., there are very few people I want to hang out with then(laughs). Something I enjoy about the band I am in is that I'd love to see all my bandmates at three in the morning and the people in that picture are the closest people in my life. That's what I enjoy a lot about playing live and meeting the other bands we play with in Austin and in Houston in the music scene. If you are the kind of person I want to hang out with at 3 A.M., you will be my friend for life.