By: Garrett Bethmann
Artist's Palette is a series in which we speak with the people who help shape the all-important visual side of the musical experience, from album and poster artists, to music video animators and directors, to stage designers and lighting technicians and everything in between. Music should look as good as it sounds.
Andrew Knives is a creator of worlds. 
As a motion-designer and visual hot shot, his work is about creating the secret wormholes and psychic backdoors we use from time to time to escape the obvious world and remind ourselves there is more to life than the day-to-day doldrums. Getting looped into a Knives animation frames you in this dynamic feeling of shock and curiosity, where melting optical illusions, technicolor wavespells and collaged consciousness somehow feel comfortable in this new psychedelic plane you've found yourself on. 
Based in Los Angeles, Knives is a freelancer who works independently with high-profile graphics agency H+ Creative. His clients run the gamut of world renowned brands like Puma and Palms Hotel, skateboard wheel company SML and musicians like Billy Idol, Killer Whale and Langhorne Slim. One of his more renowned projects was working with Topanga Canyon wizard Jonathan Wilson on tour visuals and graphic designs for his two recent opuses Rare Birds and Dixie Blur.
The pairing was a pivotal one for Knives both in terms of exposure and resonance, giving him the opportunity to create the surreal universe in which Wilson's music would live in for thousands of fans who saw the musician on tour. It was a perfect pairing of creatives and one that's helped establish Knives as a sought-after addition to the rollout of any musical project. 
Andrew Knives is melting faces from the streets to the stage to the Palms, riding with a wild posse of surreal cowboys like him who see more to the world than what is right in front of them. He's the creator of his own destiny and he's bringing along anyone who wants to join in on the fun.
"Overall, everyone I've connected with, whether it's via a project, or even just in the comments of my Instagram posts, mean a lot to me," said Knives. "My work attracts a rare breed of human and I'm really stoked to connect with everyone that appreciates it. … We're all sitting in the passenger seat of this ride together. We'll see where it takes us."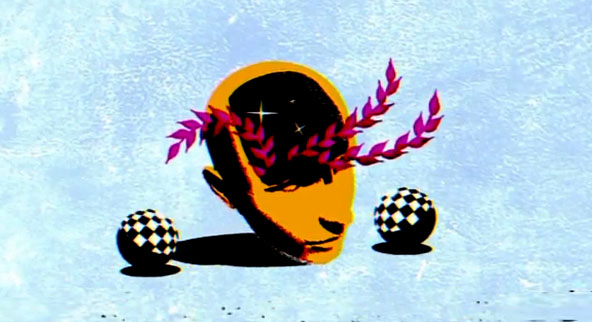 Read below for an email conversation with Andrew Knives. This interview has been edited for length and clarity.
Your job at H+ Creative has you advertising for a whole lot of different products and experiences. How much do you actually use or "experience" whatever your clients are trying to sell? Does that affect how you create your art? 
When I work on a project that involves an actual concrete product, I most definitely use that product. It elevates the project from being just a  "job", to more of a personal experience for me. Which then allows me to become more invested on a deeper and personal level, thus allowing for a much better final product. 
For example, I've done graphics for a skateboard wheel company called SML. With that particular project I take into consideration how the wheels look when spinning and how they look on a board and how they look in a case at a skateshop. All that is in my head when designing.
The same is true when creating motion graphics. I consider the immersive effect a motion graphic can have on someone when they view it. Right off the bat, I imagine myself watching the final product, and try to emulate the feelings I get when imagining how it all plays out. Having that foresight, and actually putting myself in that scenario helps me lay out the direction.
What's a rule of design that you find very important or something you are always applying?
There are a couple I like to follow. One being "keep creating."  It's easier said than done, but continuing to practice your craft, and grow and learn is really important. There are pressures put upon designers — mainly from themselves — to stay relevant and active. So obviously I support allowing yourself to rest so you don't burn out. But staying in the creative mindset is very important to me. 
The other rule I personally follow is — and this is as cliche as it gets — but don't subscribe to any rules. My design methods and styles are defined by me. I feel I would only be limiting myself if I were to be under some sort of guidelines when designing. I try to break out of my normality and learn and grow my design process. That's something I wouldn't necessarily be able to do if I was working within a set of strict rules.
What have you found to be almost essential for you getting the best out of your creativity?
I try to never remove myself from a flow state. I feel that every creative person, no matter what avenue their creativity is in, they are to their core a creative person and should live their day-to-day in a creative headspace. I get pretty depressed when I'm feeling like I'm not being creative. It drives me crazy. So if I'm physically not working on something, I'll surround myself with creative people, or listen to music, or be in nature —  there's nothing more creative than nature — and that will sort of stimulate the creative neurons in my brain. 
How did you get roped in with Jonthan Wilson? What was he looking for as a client? 
I've been a fan of his music for a while. I can't remember how it all worked out, but we ended up talking about one of his releases, and I expressed to him that I would be really hyped for the opportunity to emulate the imagery his music put into my head, in the form of a music video, which he was down for. From that I created a full length video for his track "Trafalgar Square," as well as providing him with some stage visuals for his tour. 
Being trusted with the task of creating a visual accompaniment for such a talented musician, and overall rad dude was pretty fulfilling. I was lucky enough to catch a show from that tour, and see how people in the crowd reacted to the visuals on stage. That blew my mind. Being able to enhance someone's experience of watching live music was really special for me. 
What have been some of your favorite animations recently?
I went through a really bright, colorful, psych phase for a while. Those are all still my favorite. They weren't really received as well as I had hoped (laughs) but I don't necessarily mind. That's kind of why they're my favorite. They're like the ugly ducklings of my portfolio, and I love them even though no one else really did (laughs). 
I look back at those works and feel they were my wild and angsty phases of creativity. I'm glad I explored that avenue. It literally felt good sitting back and watching these really bright, euphoric, psychedelic scenes melt into one another. Those also got me working with different methods of animation and editing. I was able to learn a lot from those.
Where is your curiosity leading you to explore next?
I've been slowly getting into more and more post production editing, which is in my mind when I start the initial creative process.  It adds another layer to the whole thing. And that's endless. That's really motivating to keep creating and keep learning different ways to create. 
What do you think this animation endeavor and creative undertaking reveals to the world about who you are as a person?
I'd like to think it allows people to see a glimpse of who I am in the sense that I'm focused on more than what surrounds us physically. It's pretty obvious my work is a bit psychedelic and somewhat dreamy, and to me, that represents my desire to see things for more than face value. Creating a dreamy and psychedelic world, to me, reminds me that there is more than the monotonous day-to-day we are expected to live in. 
A flower means a million different things to a million different people, and taking the time to at least try and understand that, and not just pass that off as being just a "flower," is something I hope to get across by the work I do. I'm always trying to learn, and challenge my own thoughts with new thoughts, and alternative angles, and I hope that — though I don't know how — maybe my work gets someone on that thought.
You work within a lot of different era's in regards to images and aesthetics. How would you characterize the aesthetics of this last decade, that when we look back, we'll say "This is the 2010's"?
The mid-to-late 2010's in my mind drew heavily from more of a surreal and artistic style of photography, but done so in a way that it wasn't over the top or played. There's a lot of artistic expression within this block of time, but done so in a tasteful way.  A modern eye, with a classic understanding for composition and taste sums up the last 10 or so years of photography, for me.  A really great example of this is from photographer Larissa Gabrielle Jaks. Her form and visual awareness is something I consider a massive inspiration for when I design my own work.