By: Garrett Bethmann
It's hard to explain to others something that defies previous experience. How do you explain sound to the deaf? The plight of the religious disciple is to show people a path they've never traveled, promising transcendence to an eternal place they've never been and don't understand. They say there's colors in Heaven that defy imagination. But when you feel something of spiritual worth move you, you gotta preach the good word whether you fully understand it or not. 
I've felt this way for the last month listening, feeling and unpacking the enriching debut album Don't Play It Straight from hip-hop duo Small Bills. The album transcends precedent for both rapper and vocalist ELUCID and producer The Lasso, whose collaboration achieves a singular aesthetic of deconstructed soundscapes, smeared rhythms and freeform manifestos that will take time to fully comprehend. Not that there's a need to understand it, but there's a want to appreciate all the sonic shades and lyrical intricacies vibrating off of each other in Small Bills' beautiful bedlam. Don't Play It Straight, out October 30 on Mello Music Group, is an underground, new world order sound of hip-hop, punk, poetry and art that blossoms in the face of creative complacency and cultural dissent. 
ELUCID and The Lasso were drawn to each other because they believed they could be greater than the sum of their parts. ELUCID's dense lyricism provided an opportunity for the Michigan producer to steer his creativity in interesting ways, while the New Yorker MC saw an impressive and technical musician in The Lasso who welcomed creating within a partnership. After meeting at a Brooklyn show for fellow Mello Music Group artist Lando Chill, the duo spent a better part of a year trading ideas through text and email over month-long intervals, coming together for rapidfire recording sessions lasting a couple days at a time.
The slow but deliberate process allowed all the album's complexities and contradictions to saturate and form into heady layers of sound and thought. Everything feels fresh and distinct to Small Bills, from the distilled afrobeat of "Safehouse" to the evaporating rhythm of "Holes In The Air Caused By Light" to the ecstatic drillhouse of "The Master's Clock." There's a heavy weightlessness to the album, where the density of the lyrics and instrumentation is buoyed by the fluid production and liberated aesthetic, much like the charged atmosphere of electrons swirling in space over the concentrated nucleus of an atom. It is a catalytic catacomb of music, ideas and creativity, where every corner and dead end is an opportunity to get excited about the musical scene in front of you. 
Getting lost in Small Bill's world will give you perspective about what you see in yourself, what you perceive in art and what is possible when you minimize form and maximize expression. This album is one of the most unique offerings this year, revealing a whole new way to approach hip-hop that is rooted in the purity of true collaborative creation and pushing oneself to go beyond the obvious. Don't Play It Straight certainly lives up to its title, with Small Bills proudly painting in colors you've never heard of until now.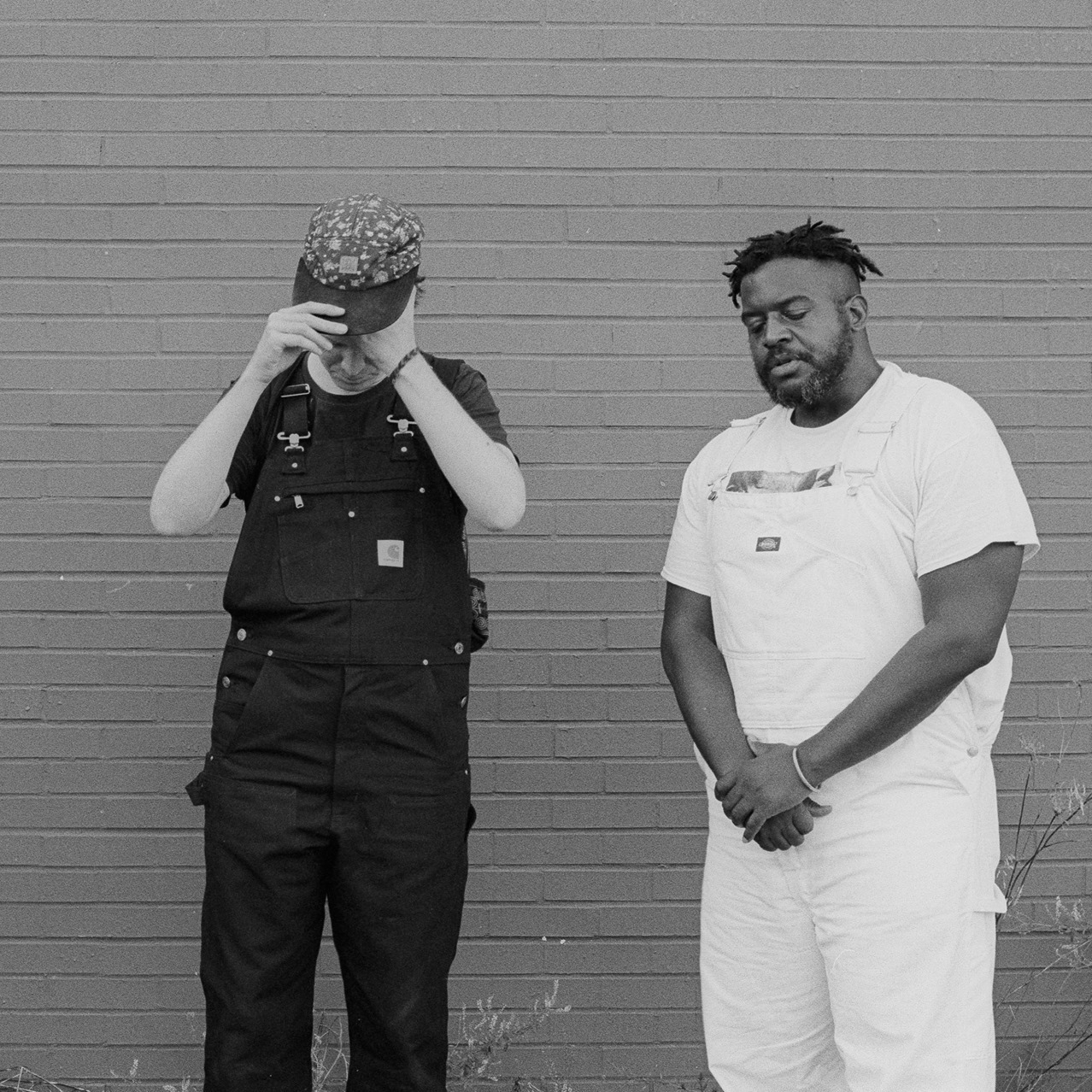 Art Credit: Machell Andre  
Photo Credit: John Hanson
Read below for an email interview with ELUCID and The Lasso. This interview has been edited for length and clarity.
How would you describe the vibe of the album as a whole and what did each of you bring in general to help establish that vibe? 
The Lasso: For me the album is all about balancing this sort of classic "song/band" ensemble format, but pushing it as far as we can towards art music while still retaining that sort of song based experience. ELUCID and I are capable of making weirdo shit, or making true to form hip-hop. Eventually it all fused into something less definable.
ELUCID: The one mc, one producer format is a classic mode of rap music creation and is one that I was excited to participate in with Andy. Being that we lived in different cities and me being mostly unfamiliar with his dynamic range, it was important for me to slow down and listen. I began seeing and hearing opposing styles working together as a whole greater than the sum of its parts. That type of synthesis is really the core element of hip-hop to me. The vibe was vibrant and spacey and messy and freewheeling. During recording I kept thinking and saying that these songs made me feel like I was painting with new colors. 
From those first seeds, what parts of that early framework, ideas or sounds felt like they carried through the entire project as you intended? What was gained during the process that you couldn't have conceived of from the beginning? 
ELUCID: I wanted a record that reflected my personal taste. When I look at the current rap landscape it all feels safe and one-note and gridded-out. I wanted to remind ya'll of expansiveness and boldness. We achieved that on a certain level and I know how and where to probe deeper on the next effort.
The Lasso: We have a lot of tracks from 2019 that sound more like Lasso producing ELUCID. We spent so much time finding Small Bills' sound instead of making a rapper-producer collab album. My beats can be so melodic and ask for singing and Chaz is primarily a rapper, so it was like how do we make this work? Over a year, I moved closer towards him and vice versa. ELUCID is a bonafide singer, melody writer and vocal arranger with his own stripped-down style.
Did either of you have individual goals for your artistry where Don't Play It Straight presented a good opportunity for that evolution? 
ELUCID: From the very first beat Andy sent me I was able to hear melody and harmony in a new way. I've sang and harmonized on a few of my records but I really wanted to cement that side of myself on this record. I wanted to remain open to possibility within a song. I knew what i wanted to say lyrically but the delivery and feel and oftentimes additional voices and instrumentation were realized and created on the spot.
The Lasso: I never get far enough to even be talking about an album if it doesn't present an opportunity for growth and evolution. It went so much further than I ever thought it would, Small Bills gave me a new lease on my creativity. I'm sitting here just grateful for the music and the opportunity. It's an album that neither of us sat and thought of, it's something that happened through hard work and time spent.
What was the general process that you developed to create over long-distance? How do those limitations inspire creativity and how do they hinder? 
The Lasso: We'd text a lot then meet up every four to five months and work for a few days. When you finally get in the same room everything happens real fast, so you spend a lot of time talking about things that may be second nature if you were just in a session. But in the end I think that kind of made us make a better album. ELUCID really sat through four seasons of Lasso beats and that's not easy (laughs), I make so much shit and it's all over the place.  
ELUCID: For me, proceeding slowly worked in our favor. I was able to receive and sit with a multitude of styles and explain what I thought worked and what didn't, what should be added and what should be cut out. It was cool to watch beats develop over time with players like Jarad 'Saxsquatch' Selner or Chris 'Deep Greasy' Pierce laying horns and bass lines. Sometimes after their additions, a beat that I thought played out sounded completely reinvigorated and ready for a new direction.
Were there any prisms or lenses you might have been viewing the world through that found its way into your creativity on this record?
The Lasso: All I did the last few years was read about Prince, George Clinton and Sun Ra and then drive around Detroit and listen to them. I'm very inspired by the people and places in history in which music has become a natural vehicle for the intersection of culture. The U.S. is just so defined by tribalism these days, but I've been skateboarding and playing music since I was 10 and been surrounded by people of all backgrounds, ages, races and religions. 
Love and acceptance doesn't have to be some big performative conference, there are actually cultures like skateboarding and music where people get along and discourse about difficult subjects in a natural way. You're only on earth so long, am I trying to get my Spotify stats up or can music be a vehicle for something else?
"Holes In The Air Caused By Light" is one of my favorites. Lasso, where's your starting point on the beat and what qualities did you want to serve up to ELUCID? 
The Lasso: I treat production like exercise, I do it everyday and it's a habit that builds on itself, so there is just a lot of music happening. On that particular one, I played the drum part then just kind of scanned what ideas I had been playing with on the instruments lately that could compliment the drums in a weird, sloppy, broken beat kinda way. I had been messing around with that little bass arpeggio, an interval I originally learned from this Cuban jazz record "Silencio" by Ibrahim Ferrer probably 12 years ago.
I looked into Banneker's almanac, learning it was published in colonial America by a black man who challenged Thomas Jefferson's stance on slavery in a series of public letters. ELUCID, what's the throughline between history, your lyrics and what you were aiming for in naming the song "Banneker's Almanac"?  
ELUCID: I rarely write songs keeping a throughline in mind. I prefer a sort of runaway logic. There's always a couple of layers and ideas to my songcraft which exist together conceptually but may or may not be directly connected.
With the title being the jump off point, Banneker's almanacs were known for "predicting" natural growing cycles and seasons, tide tables, moon phases and astronomical data. I began thinking about both time and history being cyclical before looking at our current social and political landscapes through a lens of black liberation and feeling like we have arrived at the end of an epoch and currently in a total paradigm shift that we either exist to adapt in or be left behind. Or maybe not!