By: Garrett Bethmann
At this stage in the game, it's become quite clear COVID ain't no party, it ain't no disco, it ain't no fooling around. With no more dancing and lovey dovey at clubs and bars across America (unless you were in Arkansas last week) musicians have had to settle into whole new lives and find homebound outlets for their music, income and sanity that were once relegated to the open road.
For over a decade Jeremy Lyon has been an ace-in-the-hole California musician that has been an ingrained member of a laid-back and blossoming psych-coastal community of grassroots Bay Area bands that include The Rainbow Girls, Marty O' Reilly & The Old Soul Orchestra and Whiskerman, among others. His first band Tumbleweed Wanderers had a impassioned run that included touring with Greensky Bluegrass and he founded his new psych-rock solo project King Dream in 2016, releasing its buzzy eponymous debut album in 2018. 
March and April were gearing up to be pretty busy for Lyon. He was prepping the release of King Dream's new EP (featuring mixes from Michael Brauer and Dave Way, who've worked with My Morning Jacket and Fiona Apple), while also practicing for shows with Whiskerman for its new album release tour, along with session gigs on the books as well. In an all too familiar turn of events, COVID happened, all gigs and sessions were scrapped and Lyon had to shelter-in-place.
So when COVID gives you lemons, you bail to the coast to start an impromptu music commune! Since California's shelter-in-place orders took effect in late March, Lyon has been living a relatively idyllic life out in the country of Bodega, a town north of Point Reyes National Seashore. He's on a property 15 minutes from the ocean, shacking up with members of The Rainbow Girls, including his girlfriend Caitlin Gowdey, and The California Honeydrops' keyboard player Lorenzo Lorea.
If it sounds great, it's because it kinda is. They do exactly what you hope they'd do with all that wonderful creativity living together: passing the time playing with each other on live streams and sharing their unique collaborations with fans, recording each other's late night jams and going down rabbit holes of sounds in the home studio. Lyon has also been hard at work playing with the final touches of King Dream's new EP, the touring pause giving him the chance to really hone his producing and recording acumen.
It's kind of a dream scenario considering the many more dire alternatives and Lyon has been appreciative of the time to rest, reflect and grow as a musician and human. It's not every year a pandemic hits, but when it does, there's nothing much better to do than sippin' some lemonade in the country, playing music in a barn with friends.
*Interview with King Dream below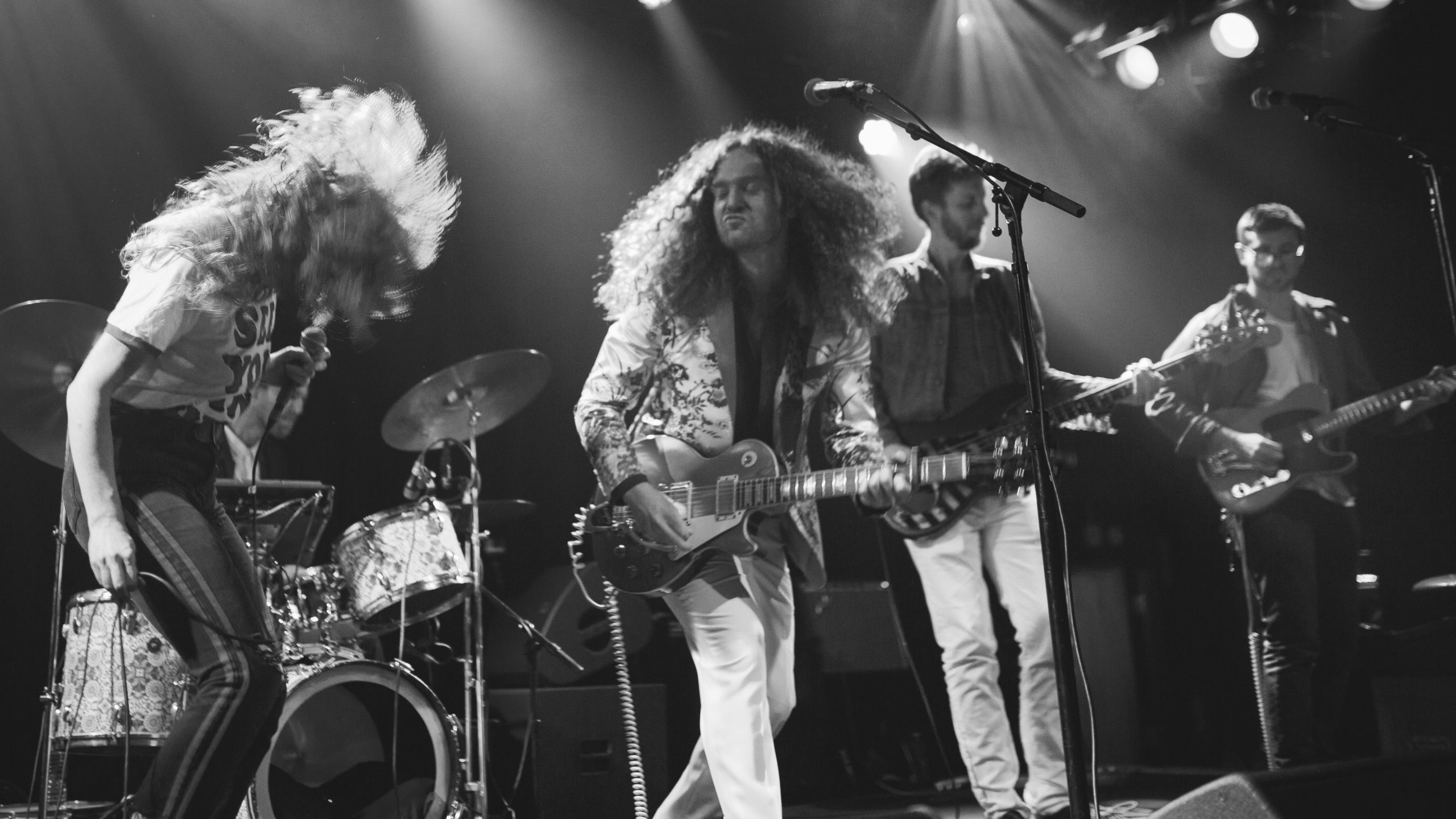 *This interview has been edited for length and clarity. 
What was your biggest lifestyle change with California's shelter-in-place orders?
What's tripped me out is how quickly you can adjust to your reality. The first few days felt strange. It was such a lifestyle change too. I'm used to touring and even when I was home I'm used to going out a lot. I lived in an apartment in Oakland for a few years. It's not like I cooked for myself a lot (laughs) and there was always a rehearsal or a gig, so not going out at all was a big lifestyle change. I would get stir crazy if I wasn't out of the house by 4 p.m. (laughs). 
What opportunities have presented themselves to this living situation that you don't think would have been there without the shutdown? 
I've switched to being more of a studio musician than a live musician. I'm using Pro Tools and taking classes and jumping in head first into how to work that program. My girlfriend Caitlin plays in Rainbow Girls and her bandmate Erin's boyfriend plays keys in The California Honeydrops, Lorenzo Loera. He came up and has been quarantining with us.
He came up and at night I'd show him some slow soul ballads I had lying around for a couple years that never made it on records. So we have a little late night EP we've been working on, putting slow jams to tape, that's been really fun.We have a little drum machine, I play bass and guitar. We're still trying to finish that, but that was early on when we started that. Whiskerman started working on an album before this last one came out and I'm jumping into that this week with guitar parts and overdubs. 
I saw you recorded a King Dream track "Return to Zero" and broadcasted the remote recording session live over Twitch. What was that experience like?
We had a cool opportunity with Scott Mcdowd who owns Wally's Hydeout recording studio. There's this plugin where you can broadcast your session to anyone else who has this plugin, kind of turning it into a radio setup. Instead of using Facetime or Zoom audio, you are streaming out a Pro Tools session. 
We tried doing a remote recording of a song with the original King Dream lineup on the first record. We got like five different people recorded on a track on one day and broadcast it on Twitch. I've been fleshing out some demos at home and it was nice to do it with people and it felt like you were in a studio (laughs), with people providing feedback and trying stuff between takes. It was nice to be working on parts together.  
It's a cool, voyeuristic opportunity from a fan's point of view to watch a band put together a song. Did you get any feedback about it?
I think some people found it interesting. We worked on one song for 10 hours and that's definitely not everyone's cup of tea (laughs), so it was kind of like being a fly on the wall. People will come in and expect it to be more crazy than it is. Some of it is tedious, some of it is magic. It's like a baseball game. Baseball has those exciting moments and a lot of it is tedious stuff to build up to it (laughs). It felt like a successful experiment and I was happy on how the song came out. I definitely want to try it again, though, maybe not broadcast it because it puts people on the spot more.  
Live streaming has certainly become the new currency for musicians these last couple months. Have you been satisfied creatively with those events? What's that experience been like for you?
Most of the livestreams I've done with King Dream someone else has created the event, so it's nice to feel a part of a community still. Doing these all-day live stream festivals has been nice because people will jump from set to set and people will tune in who otherwise might not. I was able to dial in some vocal effects for songs and built some drum loops and was able to do some more things with the solo set than I would normally do in a club because I had more gear on hand. 
I'm curious to see if people keep tuning in as this goes on, it was kind of like the Wild West at the beginning. It's kind of like virtual busking which can be exhausting in it's own way. I've been trying to not do too many and make them feel more special and generally try and team up with someone else. It's worked out well for Rainbow Girls, they'll do a big show every month and they haven't repeated songs yet, making each show feel unique. 
What would you like to share about the new King Dream EP? 
I wanted to make four singles and they've all been live staples of the set for a while. I've had maybe seven different drummers play with me and a few guitarists since I started this project, who I love and appreciate. But this group that recorded on the EP I've been playing with in different ways for about 10 years. Everyone in the band now was in my old band Tumbleweed Wanders at some point. It felt really good to record as that unit because we've played live a bunch but never recorded in the studio.
At the beginning of this year we did a little retreat for a couple days and demoed the songs out. Got into the real nitty gritty of it and tracked the live band together. I usually harmonize on the vocals but these are all me and I overdubbed all the guitars. It's more me on vocals and guitar than ever before (laughs). Maybe I wouldn't have spent so much time on it if it weren't for COVID (laughs). I'm not going to release them before this thing is over, so I'm going to take my time and go down the rabbit hole to see where they can go.
I've always looked at things as a full album and have been all over the place in terms of writing and wanting there to be a whole arch to the project. I've been trying to zero in on batches of songs. The EP are all anthemic live songs. Then I had a social distancing recording with Caitlin, where we never went into the mix room and the engineer never came into the live room. That was four acoustic songs, then I'm working on these soul slow jams to tape with Lorenzo. I'm trying to not shut off any avenues and work on songs in batches. Creatively it keeps it interesting.