By: Garrett Bethmann
You're 20's are for figuring out your shit. 
At least that's how my mother always put it and I can't say she's wrong. With a little bit of perspective from my early 30's (essentially graduate level 20's) I can see the arc of my journey towards being my ideal self and I can remember the little trails of discovery I took off the main path to try and search for those bits of experience and wisdom that would help me grow. 
As I am still in a lot of ways on that journey, my soul can't help but fall under the gravitational pull of Coral Moons. The Boston band, formed by singer-songwriter Carly Kraft and bassist Manual Camacho in 2019, are brimming with that youthful lust for life and have captured the turbulence and beauty of your 20's on its debut EP Quarter Life Crisis. Coral Moons' evocative pop-soul is a sonic spa for you to decompress in, comforted by Kraft's transcendent voice and mindful story telling and nurtured by the easy calm of the music. Certainly inspired by the potent mix of romantic story telling and the vulnerable pop music, like that of  Lake Street Dive and Fleetwood Mac, Coral Moons is the type of band you put on as you contently journal alone in your room as a party goes on outside, 
This young upstart is certainly catching the ears of the right people and following in the footsteps of the right bands. Quarter Life Crisis was produced by Sam Kassirer, who helmed the modern pop masterpiece Bad Self Portraits from Boston's Lake Street Drive. They've also had an impact on the greater Boston scene, having sold out the legendary Lizard Lounge three times despite being about a year old.
You can't help but applaud and cheer for Coral Moons, a band who is letting their youthful energy fuel its rise to be something better than they are now. They have a wealth of potential at their young fingertips and it will be a joy to listen to them as they continue to grow into their ideal self.
Read below to see Going Left Music's interview with Carly Kraft as she discusses Quarter Life Crisis, working with Sam Kassirer and the new music they have planned for the Summer. Also enjoy the premier of a new live video of the band's song "Dive In," filmed impromptu on a roof amongst the Boston skyline. 
*Interview with Coral Moons below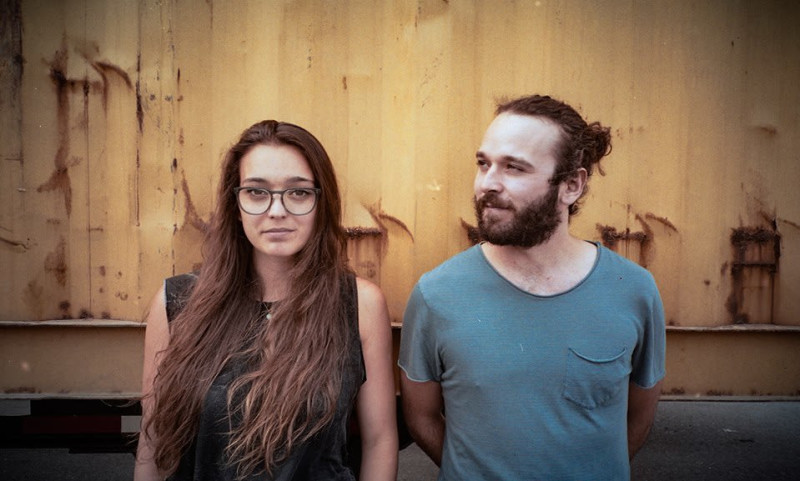 *This interview has been edited for length and clarity. 
Do you remember one of the first times you might have moved someone with the music you were playing with Coral Moons? 
The title of our EP was Quarter Life Crisis and I feel like that resonated with more people than I initially thought it would, so I've gotten a lot of good responses. The song "Dive In" references that, not being able to work a 9 to 5 and that was something I was preaching for myself, to be ok with not being ok with a 9 to 5.  A lot of other people were feeling that for themselves, especially in their 20's and in the city, where most of our music has been played in Boston. 
Sam Kassirer produced your EP, who has done Lake Street Dive albums, among others. How did you link up with him as producer? Did you have any favorite records by him? 
We were so lucky to link up with Sam. He did the Bad Self Portraits album, which is probably my all-time favorite Lake Street Dive album. I was researching my favorite albums and producers and he was the first one I found. He also did one with David Ramirez that was a real turning point for him because there were a lot of new-age contemporary sounds that caught my attention. David is kind of folk-country and Sam's stuff with synths really caught my attention. He was the first producer I reached out to and sent him some crappy iPhone demos. He was like, "are you flexible?" We said yes, and he was like "come on in." So we were really lucky, we weren't even established yet. Whatever he heard helped us bring our sound alive.
Did you set guideline ups for what you wanted out of him as a producer? 
I tried to make guidelines for ourselves and our recording processes. But Sam has his own way of recording and pre-production and the overall recording experience. I had a lot of expectations in my mind but they were naturally shaped by how Sam likes to do things, which worked well for us. I'd never recorded before in my life, so I went in with my own expectations that came from no experience. I didn't have any expectations, if that makes sense. 
We went to the middle of nowhere Maine, he has a recording studio out of a farmhouse. Any vision you had of recording and going to a studio with a sound booth and huge mixing room with glass in the middle, this is not that. It worked its way into magic because we were in this very remote place and our music vibed off of it. It came together very nicely and it definitely shaped our music. 
What was something he did that you thought was very intriguing in the way he did things? 
Sam has a way of pushing boundaries that I think is really amazing, not doing traditional anything.  A lot of our songs could have had B3 organ and classic soul sounds you hear a lot in contemporary music and old music. He's constantly trying to push the boundaries. "Why would we do that, when we can do this, everyone has done that?" We had a lot of melotron. We had an instrument called a Farfisa, which is this weird electronic organ that makes the weirdest noises. Every weird instrument he wanted to put on it was exactly what we needed.
Where was the most harmonious product between the band and Sam? 
"Dive In." I keep going back to synths, I could not be convinced why we needed synths on any of these songs. The first part of the song has this weird water, bloppy sound that we thought was so weird. In the mixing phase, Sam just put it in and it was really cool. Vibing off of our weird mistakes is what made everything so beautiful to us. We didn't mean to do that but its something we look forward to in our songs. 
Are you planning on releasing any new music soon? 
There is a single coming at the beginning of June, it is called "Winnebago." The song is about getting on the road and getting anywhere else, getting out to enjoy life. The song means so much more now that we are stuck inside and we can't really go anywhere. Maybe this song means more about the future and planning for all the fun things we are going to do. It's really fun and has some horns on it, which we've never added to a recording before. It's a new wave of music for us and hopefully it will be a nice summer song for all of us to sip on our margaritas and pretend that we are traveling (laughs)!